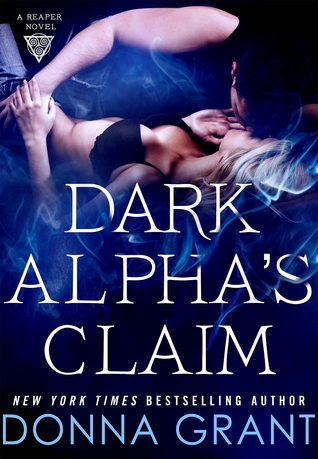 Dark Alpha's Claim
(Reaper Series, #1)
by Donna Grant

Blurb:
There is no escaping a Reaper. I am an elite assassin, part of a brotherhood that only answers to Death. And when Death says your time is up, I am coming for you...
My whole existence is based on taking what Death wants. Born to eliminate Fae guilty of unforgivable crimes, my reckless, wild nature makes me the perfect assassin to carry out Death's bidding. I've seen more sinister and violent dealings than anyone could ever imagine. But it was the sight of her face that stopped me cold. I've never wanted a woman-never mind a human-so badly; never felt my heart, hardened by death, burn brighter and hotter until it burst into flames. She is everything I desire. The kind of woman that compels you to stake your claim on her, to let the world know that she's yours. A Reaper saving her life will only attract danger, but I vow to protect her at all costs from the Fae that hunt her, and keep safe the woman who has claimed me, body and soul.
Available for purchase at
Viviana's Review:
Highly anticipated and worth the wait! OMG! I couldn't wait to read this! When I first learned that this was going to be a spinoff to the DARK KINGS but with the REAPERS as the main focus, at first I thought "how"... and of course, I should have just known that Donna would have provided her readers with a drool worthy, alpha hero and an independent and smart heroine that that readers would fall for, along with a story that would make them not want to put the book down! This is exactly what she accomplished with DARK ALPHA'S CLAIM. While we learn a little bit about the Reapers and some about them as a whole, we can already tell that each of them are delicious and will bring the 'alpha male' without the prick. Donna is known for writing smart woman and I'm certain she will continue to bring readers heroines that not only will we enjoy reading but we can connect with.
This was a fantastic start that not only provided us with some insight into what we can expect from this series, but we got an "AHA!" moment from the DARK KINGS Series. As this is the spinoff series and currently the Reapers are part of the storyline of the DARK KINGS, I'm sure there may be some overlap between the two series going forward. With that said… I believe you can read this as a standalone, however, I think you'll decide that you'll want to read the DARK KINGS series to be more in the 'know' as well as it's a fantastic series and you wouldn't regret meeting these Scots who happen to be dragon shifters! Just sayin', lol.
This is an interesting spin on a classic story that many if not most cultures around the world have… the 'boogie man' and of course 'Death' itself. Speaking of Death… that is one interesting character and once you read DARK ALPHA'S CLAIM, you'll know exactly what I'm talking about. I'm definitely looking forward to that story!
I couldn't put it down! All the characters were interesting and you wanted to know more about them and their story. We got a peak into the next book and it's going to be ooohhh sooo good!!
Rating: 5 Stars - Perfection
Disclaimer:
I received a complimentary copy of this book from NetGalley & St. Martin's Press in exchange for an honest review. This review is my own opinion and not a paid review.