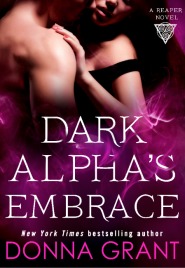 Dark Alpha's Embrace
(Reaper Series, #2)
by Donna Grant
Blurb:
An exclusive new series from New York Times bestselling author Donna Grant!
There's no escaping a Reaper. I'm an elite assassin, part of a brotherhood that only answers to Death. And when Death says your time is up, I'm coming for you...
I'm a warrior. My unbreakable determination, my backbone of steel define me. As a Reaper who does Death's bidding, weakness is a word I don't understand. Until a stunning librarian stirs emotions deep within me I've never felt before. Her soft curves blunt the sharp edges of my soul, crushing my defenses - yet make me stronger. But underneath those wide eyes and fierce femininity, she has a weapon, one she won't hesitate to use. And when the Dark begin their deadly descent, we'll need each other's love and protection...or risk fracturing apart.
Available for purchase at
Book 2 in the Reaper Series, Donna continues to spin her web of captivating her readers and creating characters that are filled with mystery and intrigue.
Picking up where Dark Alpha's Claim (bk #1) left off we find the Reapers continuing their mission and along the way having to learn to deal with some new circumstances/issues they never thought possible.
The Reapers, made up of both Dark and Light Fae work together in this team assembled by Death. As a spinoff series from The Dark Kings, the thought of Darks and Light being team members isn't something that was thought to be believed. Apparently Death has ways about her.
Speaking of The Dark Kings Series, both series intertwine and overlap a bit - something readers may wish to consider but not an issue if you haven't read the Dark series.
Ah yes, Death. Love how Ms. Donna creates the air of mystery and then adds a bunch of things that readers must get through in order to find out. Donna's gift with words comes to light as she keeps her readers entranced and coming back for more.
Overall a great continuation, and I cannot wait until the next book.
Rating: 4 Stars - LOVED IT!!
Disclaimer:
I received a complimentary copy of this book from the publisher, St. Martin's Press via Netgalley in exchange for an honest review. This review is my own opinion and not a paid review.