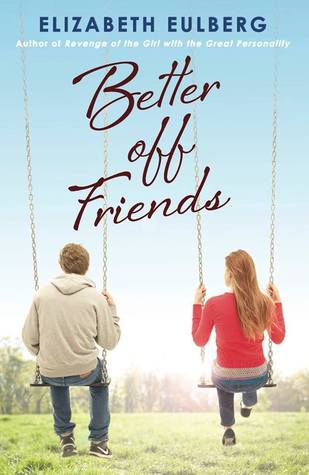 Better off Friends
by Elizabeth Eulberg
Blurb:
For Macallan and Levi, it was friends at first sight. Everyone says guys and girls can't be just friends, but these two are. They hang out after school, share tons of inside jokes, their families are super close, and Levi even starts dating one of Macallan's friends. They are platonic and happy that way.
Eventually they realize they're best friends — which wouldn't be so bad if they didn't keep getting in each other's way. Guys won't ask Macallan out because they think she's with Levi, and Levi spends too much time joking around with Macallan, and maybe not enough time with his date. They can't help but wonder . . . are they more than friends or are they better off without making it even more complicated?
From romantic comedy superstar Elizabeth Eulberg comes a fresh, fun examination of a question for the ages: Can guys and girls ever really be just friends? Or are they always one fight away from not speaking again — and one kiss away from true love?
Available for purchase at
Courtney's Review:
In this book "Better Off Friends" by Elizabeth Eulberg, Levi Rodgers transfers schools and ends up meeting Macallan Dietz and had a lot in common like their favorite TV show Buggy and Floyd. they started hanging out on Wednesdays and sooner or later they became best friends, but are they more than friends? Or are they better off friends?
In the beginning of the story I really didn't understand the style of what the author used but eventually came to understand it better and it was amazing! Macallan is my favorite character she is so sarcastic and is such a good friend to Levi. She is also very protective of her uncle who was born with a speech deformity and so if anyone makes fun of him well… let's just say it wouldn't be good.
Overall this book is very well written (after I realized how the author has writing it) and was so easy for me to picture it in my head. Also it has the sarcasticness I liked. There's also a little friend drama which there is anytime guys and girls become best friends. So I would indeed recommend this book to any young readers even if they don't understand it in the beginning; just stick with it for a while - it gets so much better, trust me.
Rating: 3 Stars - Liked It
Disclaimer:
I received a complimentary copy of this book from Netgalley in exchange for an honest review. This review is my own opinion and not a paid review.