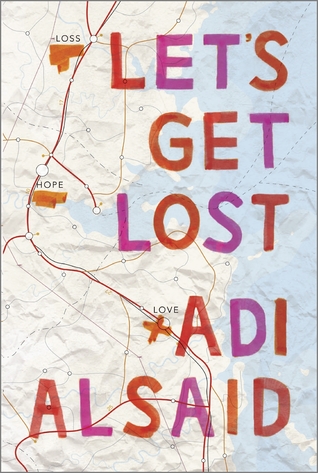 Let's Get Lost
by Adi Alsaid
Blurb:
Five strangers. Countless adventures.One epic way to get lost.
Four teens across the country have only one thing in common: a girl named LEILA. She crashes into their lives in her absurdly red car at the moment they need someone the most.
There's HUDSON, a small-town mechanic who is willing to throw away his dreams for true love. And BREE, a runaway who seizes every Tuesday—and a few stolen goods along the way. ELLIOT believes in happy endings…until his own life goes off-script. And SONIA worries that when she lost her boyfriend, she also lost the ability to love.
Hudson, Bree, Elliot and Sonia find a friend in Leila. And when Leila leaves them, their lives are forever changed. But it is during Leila's own 4,268-mile journey that she discovers the most important truth— sometimes, what you need most is right where you started. And maybe the only way to find what you're looking for is to get lost along the way.
Available for purchase at
Courtney's Review:

Let me start by saying that this story is well written with lots of significant details that make it impossible to put down. In this book four strangers end up meeting this one girl named Leila and each of them go on a separate adventure with her,some are great and some are bad. At the end of the day Lelia ends up helping each person she meets. Lelia seems to be special in that she helps each person figure something out that they didn't know before they went on their adventure with her.
This author made it really easy to understand what was going on in the story and did not use over complicated words. I like that this author made it perfectly easy to picture everything that was going on as if it were a movie. I thought it was pretty cool that the author mentioned some of my favorite movies like The Breakfast Club, Ferris Bueller's Day Off, and Pretty in Pink. I really recommend this book for young readers because it has its own special thing about it that is irresistible.
There is something in this book that I didn't quite see why it ended up the way it did. Maybe it is just the way the author wrote it that I didn't understand. Regardless of this event it is a great book and that it should be read.
Rating: 3.5 Stars - I Really Liked It!