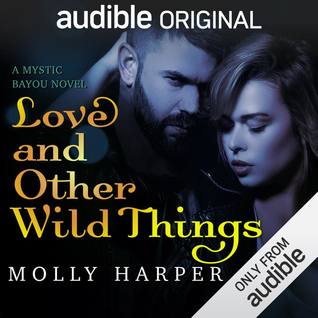 Love and Other Wild Things
(Mystic Bayou Series, bk 2)
by Molly Harper
Narrated by Amanda Ronconi & Jonathan Davis
Blurb:
Available in audio first, this hot, hilarious stand-alone will keep you wildly entertained!
Welcome to Mystic Bayou, a tiny town hidden in the swamp where shape-shifters, vampires, witches, and dragons live alongside humans. The town formed around the mysterious energy rift in the bayou, which helps keep the town's magic in balance. But lately the rift has been widening and destabilizing - threatening to send the town's magical population into chaos.
Energy witch Danica Teel has been sent by the League to figure out what's going on, with the help of bear-shifter Mayor Zed. While working on the case, Zed falls head over paws for Dani, but she's reluctant to engage in anything beyond a roll in his cave. Dani's family is counting on her to get the job done, and she has no time for distractions. But when an ominous presence begins stalking Dani through the bayou, they'll need to band together to make it out alive.
Available for purchase at
Viviana's Review:
OMG! LOVED LOVED LOVED this book! Story is filled with great characters, dialog and plot! And Zed... everything I hoped for and then some! This was a treasure to listen to!! Molly continues to write stories that leave you wanting more! LOVED AND OTHER WILD THINGS was also filled with laughs!! Loved that we also got to reconnect with Jillian, Bael, and many of the Mystic Bayou residents.
Narrator Review:
Amanda Ronconi & Jonathan Davis did a fabulous job with their performance. I really wished this was performed in duet vs. dual as the book lends itself perfectly for it. Each provide the characters their own unique tones and voices bring them to life.
Overall, this series continues to bring wonder to the listeners and I cannot wait for the next installment! A complete joy to listen to!!
Rating: 4.5 Stars - I REALLY LOVED IT
I received a complimentary copy of this book from Audible in exchange for an honest review. This review is my own opinion and not a paid review.