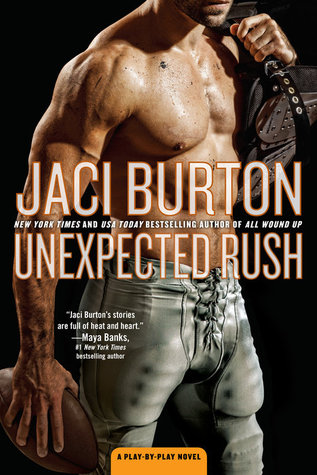 Unexpected Rush
(Play by Play Series, Bk #11)
by Jaci Burton
Blurb:
In the new Play-By-Play novel by the New York Times bestselling author of All Wound Up, a football hot shot and his best friend's sister are breaking all the rules.
All the Right Moves
For Barrett Cassidy, playing defense for the Tampa Hawks is a dream come true. And now he may have discovered his dream woman. Harmony Evans, once the sweet, gawky teenage sister of his best friend and teammate has grown into a smart, gorgeous woman with moves he finds hard to resist. But he knows he can't get involved with his best friend's sister—it's guy code.
Harmony has always gone after what she wants with single-minded determination, from her independence to her education to her career in interior design. She never expected her youthful crush on Barrett to develop into something deeper. And she's not about to let some ridiculous man rules or her brother stand in her way.
When the chemistry is this combustible, lines tend to get crossed. And when Barrett and Harmony's secret gets out, it just might be game over...
Viviana's Review:
It no secret that I am a recent fan of Jaci and picked up the series "Play by Play" on book #9 after enjoying all those yummy covers for so long. Book 9, "Quarterback Draw" was the start of what I'm calling the "Cassidy Dynasty" within the series. This is due to the story arc of the 'players' per say as it has focused on the Cassidy brothers and I didn't feel like I would be lost in the series. Loved "Quarterback Draw" and those that have followed.
"Unexpected Rush" touches on the taboo of the guy dating his BFF's sister. Apparently there's some sort of "Guy Code" (insert eye roll). Barrett Cassidy has known Harmony Evans for years! She's the younger sister of his BFF and teammate. Though she had a crush on Barrett growing up, she didn't plan on having one as an adult. The chemistry is there and so are the circumstances and various situations continue to place them in each other's path.
No doubt that Jaci can write a steamy romance. "Unexpected Rush" doesn't disappoint in this aspect.
The Cassidy family is alas awesome and you want to join them - either by going out with one of the guys or you'll accept their awesomeness, love and loyalty as an adoptive sister of some sort.
Though Harmony claimed to be a strong and independent woman, I didn't like that she was okay with keeping the relationship a secret or rather pretending that there wasn't one. Even more so that Barrett went along with it and thought it was a good idea. While I get its a story, I wish the need for the relationship to longer be a secret came sooner vs. later. I want women to know their worth ... heck men too.
The ending.... a bit rushed... perhaps.... meant due to the title.
We get a glimpse of the next book and I'm intrigued.
overall a good steamy read that moves the series along.
Rating: 3.5 Stars - I really liked it.
Disclaimer:
I received a complimentary copy of this book from PENGUIN GROUP Berkley in exchange for an honest review. This review is my own opinion and not a paid review.