Happy Release Day or as we like to call it Temp Me Tuesday!!! Check out the other goodies Mad Hatter Read has for you this week!!!
It's not fair! There are too many temptations to choose from! Well, while I set here dithering over how many to get this week leave me a comment and let me know which books are on your must have list.
City of Blades (The Divine Cities, #2) by Robert Jackson Bennett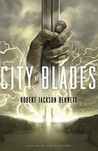 The city of Voortyashtan was once the domain of the goddess of death, war, and destruction, but now it's little more than a ruin. General Turyin Mulaghesh is called out of retirement and sent to this hellish place to try to find a Saypuri secret agent who's gone missing in the middle of a mission, but the city of war offers countless threats: not only have the ghosts of her own past battles followed her here, but she soon finds herself wondering what happened to all the souls that were trapped in the afterlife when the Divinities vanished. Do the dead sleep soundly in the land of death? Or do they have plans of their own?
Daughter of Blood (Wall of Night, #3) by Helen Lowe
Malian of Night and Kalan, her trusted ally, are returning to the Wall of Night—but already it may be too late. The Wall is dangerously weakened, the Nine Houses of the Derai fractured by rivalry and hate. And now, the Darkswarm is rising…
Among Grayharbor backstreets, an orphan boy falls foul of dark forces. On the Wall, a Daughter of Blood must be married off to the Earl of Night, a pawn in the web of her family's ambition. On the Field of Blood, Kalan fights for a place in the bride's honor guard, while Malian dodges deadly pursuers in a hunt against time for the fabled Shield of Heaven. But the Darkswarm is gaining strength, and time is running out—for Malian, for Kalan, and for all of Haarth.
Graveyard: The Mutant Files (Mutant Files, #3) by William C. Dietz
The national bestselling author of
Redzone
and the Legion of the Damned novels continues his "gripping and intriguing"* post-apocalyptic story about an L.A. cop in a mutant-filled world...
2069, Los Angeles. Decades after a bioterrorist attack decimated the population and left many of the survivors horribly mutated, the "norms" have forced mutants into dangerous areas known as red zones. And the tensions between the two groups are threatening to boil over...
LAPD detective Cassandra Lee is known for her single-mindedness, and right now, she's got only one goal—track down the Bonebreaker, the man who murdered her father. But her quest for justice is derailed when LA comes under attack.
The Aztec Empire, a Central American group determined to take back the U.S. territories that their Spanish ancestors once controlled, has led a mutant army into California. Suddenly caught in the middle of a war, Lee must put all her energy into keeping her city safe while unearthing the political secrets of LA's shady mayor. And with the Bonebreaker hunting her down, losing focus even for a second could mean death.
Otherworld Secrets (Otherworld Stories, #IV) by Kelley Armstrong
The next Otherworld anthology from #1
New York Times
bestselling author Kelley Armstrong...
More than a decade after Kelley Armstrong first opened the doors to the Otherworld, fans are still clamoring for more. In response to their demands—and to coincide with the Syfy Network show based on the series—Plume has signed up three Otherworld anthologies, each of which revolves around a different theme. The second in the trilogy, Otherworld Secrets, features fan-favorites such as Cassandra, Savannah, and Adam in rare and never before- published short stories—plus a brand new novella. Fans old and new will flock to this mystery-themed volume to discover the deepest secrets of this captivating world.
Anthology Contents
1) Life After Theft – new Hope/Karl novella 2) Forbidden – Subterranean Press 2012 Elena/Clay novella 3) Angelic – Subterranean Press 2009 Eve/Kristof novella 4) Zen and the Art of Vampirism – Zoe novella from Subterranean Press's long-sold out "A Fantasy Medley" 5) The Ungrateful Dead – Jaime short story from "Blood Lite" anthology 6) Counterfeit Magic – Subterranean Press 2010 Paige/Lucas novella
Shallow Graves by Kali Wallace
For fans of Holly Black and Nova Ren Suma, a gripping, hauntingly atmospheric novel about murder, revenge, and a world where monsters—human and otherwise—lurk at the fringes.
When seventeen-year-old Breezy Lin wakes up in a shallow grave one year after her death, she doesn't remember who killed her or why. All she knows is that she's somehow conscious—and not only that, she's able to sense who around her is hiding a murderous past. In life, Breezy was always drawn to the elegance of the universe and the mystery of the stars. Now she must set out to find answers and discover what is to become of her in the gritty, dangerous world to which she now belongs—where killers hide in plain sight and a sinister cult is hunting for strange creatures like her. What she finds is at once empowering, redemptive, and dangerous.
Tense, complex, and wholly engaging, Shallow Graves is a stunning first novel from Kali Wallace.
Spider Game (GhostWalkers, #12) by Christine Feehan
In the new GhostWalker novel by the #1
New York Times
bestselling author of
Viper Game
, a trained killer meets his match in a woman whose very kiss can stop a heart.
The Cajun dive in the middle of the godforsaken swamps wasn't exactly Trap Dawkins' idea of fun. But the GhostWalker wasn't there for a good time. He was looking for her. Cayenne. It's where she found her victims. Poor suckers. Then again, who wouldn't want to leave a place like this with a woman like her?
It's not Cayenne's fault. Locked up, experimented on and never knowing kindness, she was bred this way—with a heart of pure venom. Trap understands her. He survived his own dark past and he shares her desire for getting even. But now Trap's greatest danger is Cayenne herself. Because what's inside her is hard to control—especially when it's aroused by a lover as reckless as Trap.
Staked (The Iron Druid Chronicles, #8) by Kevin Hearne
The
New York Times
-bestselling author returns with another installment in the wildly popular Iron Druid Chronicles—a fantasy adventure that's Harry Dresden meets American Gods.
This hilarious and action-packed urban fantasy series is set in a modern world in which all the gods of every pantheon are alive and well, as in American Gods; its hero is a smart-mouthed, buttkicking magician, like Jim Butcher's Harry Dresden. But it's told in a smart, witty, unforgettable voice that's all Kevin Hearne—a star in the fantasy world. This addictive and wildly imaginative series stars hero Atticus O'Sullivan: a handsome, tattooed Irishman who looks like a young rock star, but is in actuality a 2,000-year-old Druid with extraordinary magic powers. In Staked, Atticus has his final confrontation with the clan of vampires who have been bent on destrying him—including Leif, his former best friend and now enemy.
The Brimstone Deception (SPI Files, #3) by Lisa Shearin
Men in Black
meets Janet Evanovich's Stephanie Plum in the new urban fantasy novel starring seer Makenna Fraser and her fellow agents at Supernatural Protection & Investigation.
The agents of Supernatural Protection & Investigations (SPI) know that fighting evil is a full-time job, especially when a new designer drug—with mind-blowing side effects—hits the streets...
It's called Brimstone. And after the first few hits, you'll see every supernatural beast sharing the sidewalk, train, or office with you. After that, you'll start seeing the really scary stuff.
I'm Makenna Fraser, seer for the SPI. And the collateral damage caused by Brimstone is something I'd like to unsee: dead drug dealers missing their hearts—and souls. Because your local pusher doesn't stand a chance against the new cartel muscling its way into New York. And since the drug can only be produced with magic and molten brimstone fresh from Hell, that means a rift to the underworld is open somewhere in the city.
And when—not if—the cartel loses control of it, well...
It's going to be Hell on earth.
The Dark Days Club (Lady Helen, #1) by Alison Goodman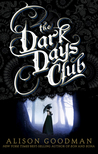 New York Times
bestseller Alison Goodman's eagerly awaited new project: a Regency adventure starring a stylish and intrepid demon-hunter!
London, April 1812. On the eve of eighteen-year-old Lady Helen Wrexhall's presentation to the queen, one of her family's housemaids disappears-and Helen is drawn into the shadows of Regency London. There, she meets Lord Carlston, one of the few who can stop the perpetrators: a cabal of demons infiltrating every level of society. Dare she ask for his help, when his reputation is almost as black as his lingering eyes? And will her intelligence and headstrong curiosity wind up leading them into a death trap?