Hope everyone had a great Christmas/Holiday season! I'm sure many of you got gift cards and/or some cash... wouldn't you love to spend it on something that is just 'you'? Check out this week's "Gift Idea For The Book Lover" or visit the main page to look through past weeks for some awesome items!! I love to hear what you think, let me know which
is your favorite?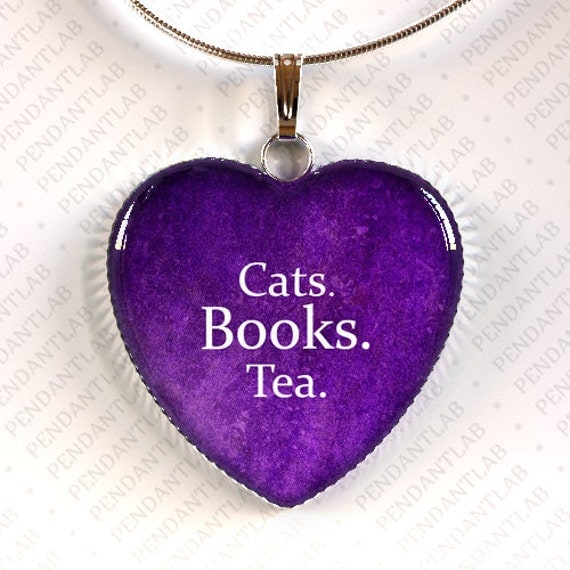 Cats Books Tea Heart Pendant, Book Lover Gift, Book Quote Necklace, Librarian, Book Addict, Book Worm, Librarian Quote, Teacher Gift
$14.95 (plus S&H)
Cats Books Tea Heart Pendant
This hand crafted pendant was made with beautifully printed artwork which has been seated in a solid metal plate and covered with a crystal clear glass dome. The glass dome has a slight magnifying effect and gives the image real depth.
Dimensions: 1" x 1" (2,5cm x 2,5cm)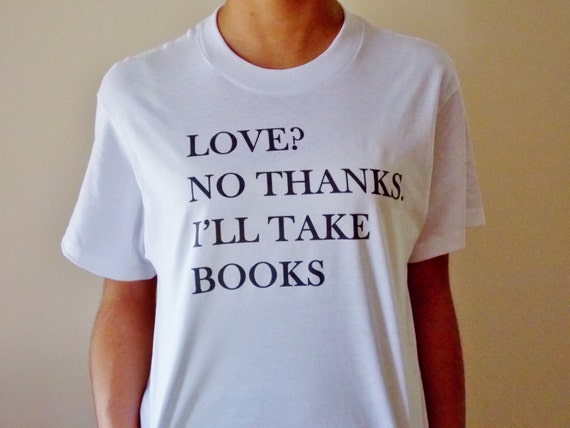 I'll Take Books Shirt. Book Lover Graphic Tee. Love? No Thanks, I'll Take Books. Unisex Sizing Adult Shirt.
By GoodWitchBoutique
$18.00 (plus S&H)
Books never let you down, so it shouldn't be surprising you prefer a good book over everything else. That's why you need this Love? No Thanks, I'll Take Books tee.
Unisex sizes Small- XL. Choose your size and color from the menu.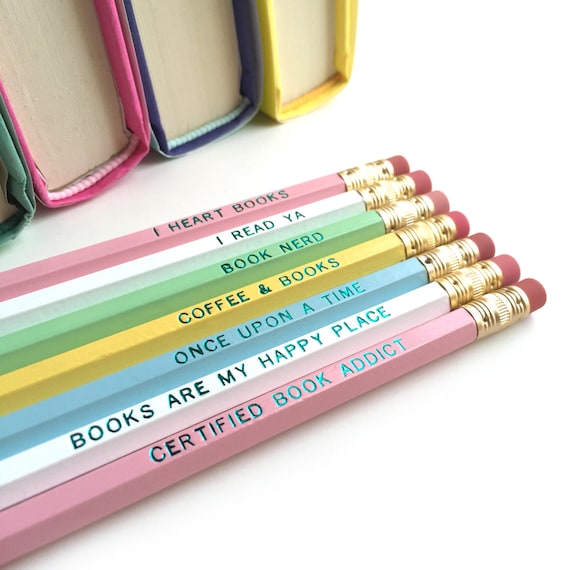 Set of 7 Book Lovers Pencil Set — Pastel Colors, Imprinted Pencils, Engraved Pencils, Booknerd Gift, Bookish Gift
$13.95 (plus S&H)
We picked out the finest pencils, our favorite quotes, and imprinted them by hand right here at home. The shimmery, midnight-blue foil on gorgeous pastel shades—what's not to love? The pencils are hex, which won't roll of your desk and really lend to that rich, nostalgic, cozy home feel, something round pencils can never achieve.
Quotes included in this set:
♠ I Heart Books
♠ I Read YA
♠ Book Nerd
♠ Coffee & Books
♠ Once Upon A Time
♠ Books are My Happy Place (find a matching print and journal here: http://etsy.me/1HLFMfv)
♠ Certified Book Addict
The set of seven pencils comes ready for gift-giving in a clear cello bag.
♠ Ready for gift-giving
♠ #2 lead with latex-free erasers
♠ Made in the USA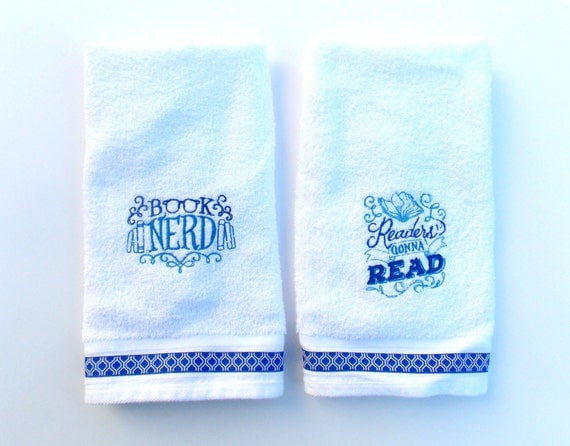 Book Lover's Hand Towel Set - Literary Bath Decor - Book Nerd Towels - Book Bath Decor - Reader's Bath Gift - Book Nerd Towel - Blue Towel
By outofmyhead
$24.00 (plus S&H)
An embroidered book lover's hand towel set featuring the phrases 'Book Nerd' and 'Readers Gonna Read' with coordinating embellished ribbon detail. What a lovely, literary detail to add to any bath decor!
These thick, white cotton, terry cloth hand towels feature my machine embroidered 'Book Nerd' and 'Readers Gonna Read' in a variety of blue toned threads. I have also embellished the towel's edge with a coordinating blue and white patterned ribbon. Gorgeous colors and one-of-a-kind! Perfect for the Book Nerd in your life!
As with all my embroidery designs, I am happy to work with you to create a custom garment using any of my designs (or finding a new one for you!) and sewing it onto a custom shirt, bag, blanket, hat, towel, bib, etc. Please convo. me with your ideas!
If items are no longer available, please contact the seller to request further information.
Click here to see more gift ideas!!
Visit us every Wednesdays for more awesome gift/present ideas for you or the
Book Lover in your life!!!