This week's "Gift Idea For The Book Lover" is going to be the only time I wish I had stairs in my house! LOL!! Scroll down below and check out this week's items and let me know which
is your favorite?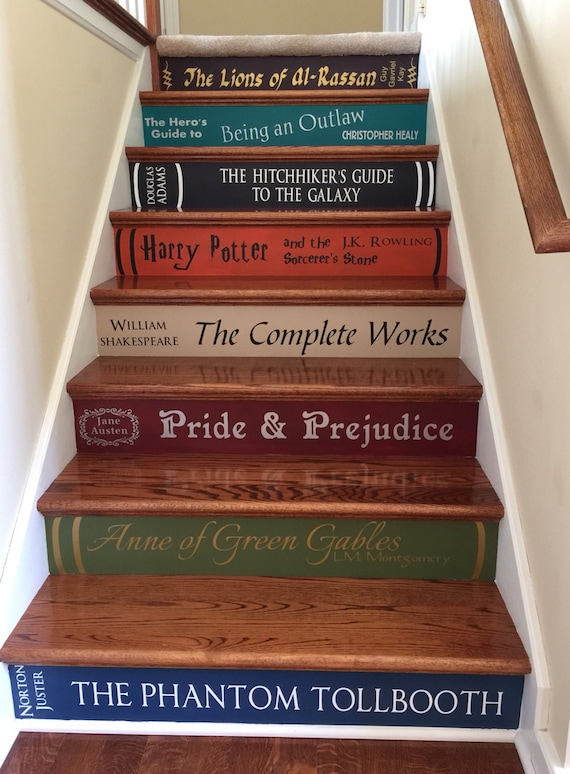 Book Stairs DIY Vinyl Decals
$25.00+ (plus S&H)
NOTE: Be sure to read the entire listing and review the tips that I've posted as the last photo. That should answer most any question you have but if something isn't clear, send me a message and I'm happy to give you all the deets! Spoiler alert: YES, you can pick any titles you'd like. These are all custom made.
I know you've seen the stairs painted to look like a stack of books. And you wanted it, didn't you? That ish is cool. But who's got time to try to paint letters on their steps all hunched over? I don't. I do, however, have the ability to cut letters out of vinyl.
So here's what you do: you paint the risers of your steps a few different colors. And then you order a few of these, slap them up over the color of your choice, presto-change-o, you just got yourself a set of book stairs without spending 75 hours doing it!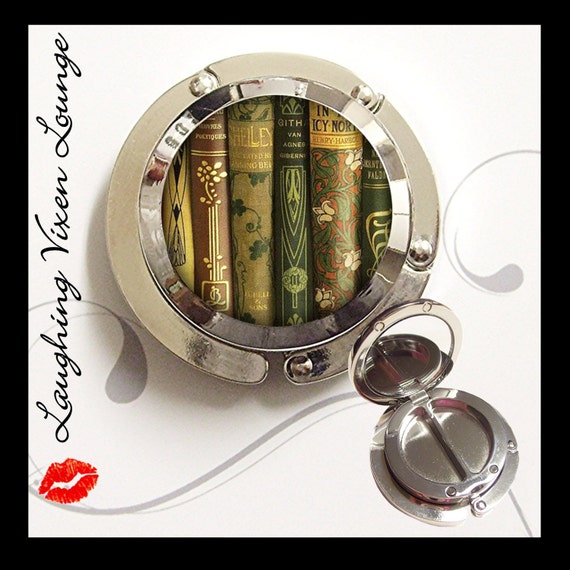 Book Purse Holder - Book Bag Accessories - Bag Holder - Purse Hook - Vintage Books Style-C - Purse Accessories - Literary Gift Purse Hange
$16.00 (plus S&H)
Vintage Books Purse Hanger - Style C
The Laughing Vixen Lounge Purse Hanger is a great way to keep your purse, bag, diaper bag or umbrella off the ground while out and about. This Purse Hanger even has a little mirror so you can touch up your lipstick and a divided compartment to hold small mints or pills. Simply unfold and set on the edge of a table (see second photo above).
- Mirror is just over 1 inch (29mm). Very small but still big enough to apply your lipstick.
- Divided compartment is just over 1/8 inch (4mm) deep. Very small but it will fit mints/pills that are flat. You may need to purchase product special to fit but it is a great way to keep breath mints and aspirin at hand.
- Overall size - 2 3/4 inch (4.5cm) wide and 3/4 inch (29mm) tall.
- Holds up to 15 lbs. (7kg).
- Magnetic closure keeps hanger in place when folded.
- Rubber backside keeps hanger from sliding on table.
- Purses/Bags with long straps - Try knotting the strap into a loop to shorten before hanging.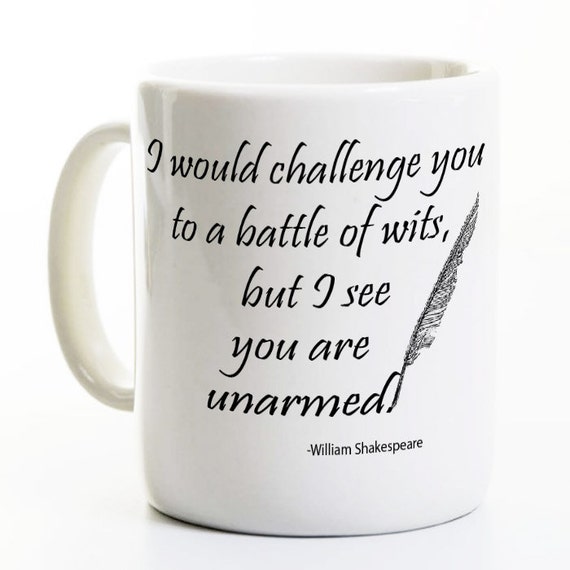 Shakespeare Coffee Mug -Book Lover Mug Battle of Wits Funny Literature Mug - Writer English Coffee Mug- Author Quote Coffee Tea Drinker Gift
$12.99 (plus S&H)
You're almost there. You've reached an original Perk Me Ups mug, and with a few more clicks this mug can soon be on its way to you.
The design shown in our photos may be simulated, but be sure that the mug you receive will look great.
All mugs are 11 ounces and have a glossy finish. They are dishwasher safe because of the dye sublimation process that we use. This process chemically bonds the ink to the mug surface. You can expect your mug to last a very long time with regular use.
* Personalization/Customization *
We can customize and/or personalize the design for you. This may take extra time, and for more complicated requests we may require an additional fee.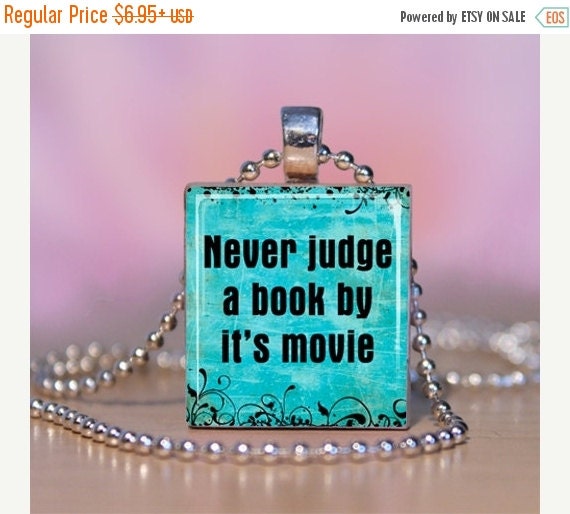 Scrabble Tile Necklace "Never Judge a Book by its Movie". Pendant is Handmade on Scrabble Letter Tile. Gift for the Book Worm.
$6.95 (plus S&H)
Scrabble Tile Pendant Necklace - Jewelry of Re-claimed Scrabble Tiles. Scrabble necklaces make wonderful gifts, party favors, stocking stuffers, and are absolutely perfect for any occasion!
This lovely handcrafted Scrabble Pendant Necklace is approximately 0.75 X 0.83 inches.
The Scrabble tile letter is random. If you would like a specific letter, please message me.
If items are no longer available, please contact the seller to request further information.
Click here to see more gift ideas!!
Visit us every Wednesdays for more awesome gift/present ideas for you or the
Book Lover in your life!!!