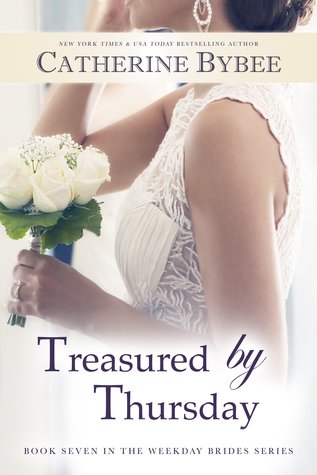 Treasured by Thursday
(The Weekday Brides Series, #7)
by Catherine Bybee
Blurb:
The seventh and final tale in the dazzling, heartwarming, pulse-racing Weekday Brides series.
Gabriella Masini: She's a woman haunted by her past, with the scars to prove it. She believes that fairy tales are for other people. An elite matchmaker at Alliance, she's great at crunching numbers, but something doesn't add up with her latest prospective client: a billionaire bad boy with his own secrets. When Gabi refuses to be his temporary wife, Hunter forces her hand with an offer she can't refuse. But marriage to a man like that could never last…or could it?
Hunter Blackwell: Only his bank account is bigger than his ruthless ability to obtain anything he wants. These days, he has a secret reason to settle down, at least for a while—and he thinks the sensual and sassy Gabi will fit the bill perfectly. But when their marriage of convenience becomes downright dangerous, Hunter must decide how far to take his vow to honor and protect Gabi forever.
Available for purchase at
I had the pleasure to read the final installment of the The Weekday Brides Series. I will admit, this is the first book of the series I read and I LOVED IT! The good news that while it's the seventh book in the series, it can be read as a standalone. The couples from the previous books do make appearances, however, you are not lost at all. In fact, if you're like me, you're going to want to go back to the beginning of the series and start with "
Wife by Wednesday
".
From the moment I started reading I didn't want to put it down. The story was intrigue from the start. Great character development! Oh speaking of characters.... HELLO Hunter! Sexy, smart and some may say ruthless when it comes to business. It's that same determination that he uses to get himself a wife. Perhaps not the best tactic but in the end... it worked for him.
Gabriella was also a great character! Strong and independent. She's trying to move forward from a dark past that seems to have found her once again. I loved that she didn't coward because of the past.
The other thing I enjoyed is seeing the other couples from the previous books. Again, I never read previous books and getting the glimpse of these couples and them as individuals made me want to read their stories to get to know them better. I also loved how they all rallied around and for Gabriella! They are great friends and support her!
Hunter and Gabriella made a great couple! They balanced each other and brought out the best in each other. They became friends before anything romantic occurred. Oh and when the romance does occur it's steamy!!
Catherine's writing style is superb! She has created a world that readers want to be a part of and characters that readers want to get to know and be friends with.
Rating: 4 Stars - LOVED IT
Disclaimer:
I received a complimentary copy of this book from Montlake Romance via Netgalley in exchange for an honest review. This review is my own opinion and not a paid review.