Happy Release Day or as we like to call it Temp Me Tuesday!!!
Dragon Fall (Black Dragons, #1) by Katie MacAlister
YOU FLIRT WITH FIRE...
For Aoife Dakar, seeing is believing-and she's seen some extraordinary things. It's too bad no one else believes that she witnessed a supernatural murder at an outdoor fair. Returning to the scene for proof, Aoife encounters a wise-cracking demon dog-and a gloriously naked man who can shift into a dragon and kiss like a god. Now thrust into a fantastical world that's both exhilarating and terrifying, Aoife is about to learn just how hot a dragon's fire burns.
WHEN YOU DATE A DRAGON
Kostya has no time for a human woman with endless questions, no matter how gorgeous or tempting she is. He must break the curse that has splintered the dragon clans before more of his kind die. But his powerful attraction to Aoife runs much deeper than the physical-and there may be more to her than even his sharp dragon eyes can see. To survive the coming battle for the fate of his race, he needs a mate of true heart and soul .
Every Last Breath (The Dark Elements, #3) by Jennifer L. Armentrout
Some loves will last 'til your dying breath
Every choice has consequences—but seventeen-year-old Layla faces tougher choices than most. Light or darkness. Wickedly sexy demon prince Roth, or Zayne, the gorgeous, protective Warden she never thought could be hers. Hardest of all, Layla has to decide which side of herself to trust.
Layla has a new problem, too. A Lilin—the deadliest of demons—has been unleashed, wreaking havoc on those around her…including her best friend. To keep Sam from a fate much, much worse than death, Layla must strike a deal with the enemy while saving her city—and her race—from destruction.
Torn between two worlds and two different boys, Layla has no certainties, least of all survival, especially when an old bargain comes back to haunt them all. But sometimes, when secrets are everywhere and the truth seems unknowable, you have to listen to your heart, pick a side—and then fight like hell.
Siren's Call (Rainshadow, #4) by Jayne Castle
In the mysterious world of Harmony, there are places filled with unexplored marvels. But Rainshadow Island isn't about to give up its secrets…
In the alien catacombs of Rainshadow, there are creatures whose compelling songs lure the unwary to their death. That's why Rafe Coppersmith, hired to clear out the catacombs for exploration, needs a music talent. He's knows the perfect one, but she probably doesn't want anything do with him...
Ella Morgan had once fallen hard and fast for Rafe, but then he disappeared for months…and he's not about to tell her why. Ella, too, has secrets that only her dust bunny knows. She's not just a music talent, she's a Siren: a paranormal singer capable of singing men to sleep—or to their deaths.
But once on Rainshadow, Rafe and Ella will learn that surrendering to passion doesn't come without risks—and fighting fire with fire only adds to the flame.
Soul of Smoke (Dragonsworn, #1) by Caitlyn McFarland
On a hike deep in the Rocky Mountains, Kai Monahan watches as a dozen dragons—actual freaking dragons—battle beneath a fat white moon. When one crashes nearly dead at her feet and transforms into a man, Kai does the only thing a decent person could: she grabs the nearest sword and saves his life.
As the dragon/man, Rhys, recovers from the attack, a chance brush of skin against skin binds him inextricably to Kai. Becoming heartsworn to a human—especially such a compelling one—is the last thing Rhys wants. But with an ancient enemy gathering to pit dragons against humanity and his strength nearly depleted, Kai has just become the one thing Rhys needs. A complete bond will give him the strength to fight; a denied bond means certain death.
Kai is terrified at the thought of allowing any dragon into her mind…or her heart. Accepting the heartswearing and staying with the dragons means sacrificing everything, and Kai must decide if her freedom is worth risking Rhys's life—a life more crucial to the fate of humanity than she could possibly know.
Spider's Trap (Elemental Assassin, #13) by Jennifer Estep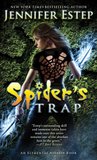 The next thrilling book in Jennifer Estep's
New York Times
and
USA Today
bestselling Elemental Assassin series—"an extraordinary series… One of the most intriguing heroines in the genre" (Romantic Times Book Reviews).
Keep your friends close but your enemies within stabbing distance.
One important lesson I've learned in the assassination business is that to be the best you have to roll with the punches. Now that I'm queen of Ashland's underworld—by default, not by choice—a lot more punches are being thrown my way. But I suppose that's the price of victory for taking down some of the underworld's top dogs. Good thing I have my Ice and Stone magic to help me survive my volatile new position. Just when I think things are finally settling down, someone tries to murder me during a hush-hush underworld meeting. But the real surprise is how strangely familiar my shadowy assailant seems to be.
My job is to maintain order among killers, crooks, and thieves, and soon I'm embroiled in a bloody game where the ability to keep secrets could be the greatest superpower of all. My enemies have all sharpened their knives and laid their traps, waiting for me to fall. But this Spider weaves her own webs of death.
The Bourbon Kings (The Bourbon Kings, #1) by J.R. Ward
The #1
New York Times
bestselling author of the Black Dagger Brotherhood delivers the first novel in an enthralling new series set amid the shifting dynamics of a Southern family defined by wealth and privilege—and compromised by secrets, deceit, and scandal....
For generations, the Bradford family has worn the mantle of kings of the bourbon capital of the world. Their sustained wealth has afforded them prestige and privilege—as well as a hard-won division of class on their sprawling estate, Easterly. Upstairs, a dynasty that by all appearances plays by the rules of good fortune and good taste. Downstairs, the staff who work tirelessly to maintain the impeccable Bradford facade. And never the twain shall meet.
For Lizzie King, Easterly's head gardener, crossing that divide nearly ruined her life. Falling in love with Tulane, the prodigal son of the bourbon dynasty, was nothing that she intended or wanted—and their bitter breakup only served to prove her instincts were right. Now, after two years of staying away, Tulane is finally coming home again, and he is bringing the past with him. No one will be left unmarked: not Tulane's beautiful and ruthless wife; not his older brother, whose bitterness and bad blood know no bounds; and especially not the ironfisted Bradford patriarch, a man with few morals, fewer scruples, and many, many terrible secrets.
As family tensions—professional and intimately private—ignite, Easterly and all its inhabitants are thrown into the grips of an irrevocable transformation, and only the cunning will survive.
The Forgotten (Krewe of Hunters, #16) by Heather Graham
Murdered by a dead man?
A woman named Maria Gomez is murdered in Miami, apparently by her husband—who'd been presumed dead, slain by a crime boss. FBI agent Brett Cody can't believe it; dead or alive, the man had loved his wife. He also can't help feeling guilty, since he was responsible for protecting Miguel and Maria Gomez.
A few miles away, Lara Mayhew has just begun working at a dolphin research facility. She loves her new job—until a dolphin brings her something unexpected from the deep. A human hand. More body parts show up, and when Brett looks into the situation, he discovers that the dismembered corpse is Miguel's.
Soon, rumors of crazed zombies abound in the Miami media, and the Krewe of Hunters, an elite FBI unit of paranormal investigators, is called in. Brett and Lara find themselves working with the Krewe—and working closely together. An elderly crime boss who's losing his memory seems to be key to solving this case, but…there's no motive. Unless Brett and Lara can uncover one in the Miami underworld. And that means they have to protect themselves. And each other.