Happy Release Day or as we like to call it Temp Me Tuesday!!!
This week's new releases are just oh so tempting! It's going to be hard to resist them buying them all. What have you been looking forward to?
Act of Submission (Immortal Ops: PSI-Ops, #3) by Mandy M. Roth
Haven Carey has given up everything to seek out the man responsible for her brother's death, but she gets a lot more than she bargained for when she comes face-to-face with the tall, dark, and delicious alpha. When her world is turned on its head, she soon discovers that nothing is as it appears to be.
Cat-shifting PSI-Operative Miles "Boomer" Walsh is the team loner for a reason—nothing and no one touches him. Not anymore. Except when a beautiful vixen shows up, claiming he murdered her brother, and tries to kill him. It's not the first time a female's tried to end him. But this time is different. Primal instinct demands his total surrender to whatever the woman has in mind…especially if that something includes a little pain mixed with pleasure.
Earth Bound (Sea Haven/Sisters of the Heart, #4) by Christine Feehan
The #1
New York Times
bestselling author of
Air Bound
returns to the mysterious coastal town of Sea Haven where six sisters of the heart are bound by the elements, and one is stalked by an inescapable past…
After escaping from a cult, Lexi found refuge with her sisters on the farm that more than sustained her body—it nurtured her soul as well. But she never forgot the terror she left behind or the always present fear that the cult would find her again, and claim her. Then her nightmare came true.
Lexi was discovered and threatened—only to be suddenly saved by a stranger. He is Gavriil Prakenskii, and he's awestruck by the woman he's rescued. She is destined for him. He can feel it in his soul. But how can Lexi find happiness with a man steeped in secrets and shadows, one intimately acquainted with violence, and whose very love could be the death of them?
Flight from Death (Fly by Night, #1) by Yasmine Galenorn
From
New York Times
bestselling author Yasmine Galenorn comes an all-new series set in the realm of her Otherworld novels.
I'm Shimmer, a blue dragon shifter. Thanks to a mistake, I was exiled from the Dragon Reaches and sentenced to work for Alex Radcliffe, a vampire who owns the Fly by Night Magical Investigations Agency. Now, not only do I have to adapt to Earthside culture, but every time I turn around, somebody's trying to kill us. And worse, Alex is as gorgeous as he is exasperating. But you know what they say: All's fair in love and bounty hunting…
When an old friend of Alex contacts him about a haunting at the High Tide Bed & Breakfast in Port Townsend, Washington, we think we're on a simple ghost hunt. But our investigation quickly transforms into a deadly fight as we uncover an eighty-year-old murder, a cursed house, and a dark force trapping the spirits within. To stop impending disaster we must break the curse and lay the angry spirits to rest.
Heart of Betrayal (The Remnant Chronicles, #2) by Mary E. Pearson
Intrigue abounds in this hotly anticipated sequel to
The Kiss of Deception
!
Held captive in the barbarian kingdom of Venda, Lia and Rafe have little chance of escape. Desperate to save her life, Lia's erstwhile assassin, Kaden, has told the Vendan Komizar that she has the gift, and the Komizar's interest in Lia is greater than anyone could have foreseen.
Meanwhile, nothing is straightforward: there's Rafe, who lied to Lia, but has sacrificed his freedom to protect her; Kaden, who meant to assassinate her but has now saved her life; and the Vendans, whom Lia always believed to be barbarians. Now that she lives amongst them, however, she realizes that may be far from the truth. Wrestling with her upbringing, her gift, and her sense of self, Lia must make powerful choices that will affect her country... and her own destiny.
Ink and Bone (The Great Library, #1) by Rachel Caine
In an exhilarating new series,
New York Times
bestselling author Rachel Caine rewrites history, creating a dangerous world where the Great Library of Alexandria has survived the test of time.…
Ruthless and supremely powerful, the Great Library is now a presence in every major city, governing the flow of knowledge to the masses. Alchemy allows the Library to deliver the content of the greatest works of history instantly—but the personal ownership of books is expressly forbidden.
Jess Brightwell believes in the value of the Library, but the majority of his knowledge comes from illegal books obtained by his family, who are involved in the thriving black market. Jess has been sent to be his family's spy, but his loyalties are tested in the final months of his training to enter the Library's service.
When he inadvertently commits heresy by creating a device that could change the world, Jess discovers that those who control the Great Library believe that knowledge is more valuable than any human life—and soon both heretics and books will burn.
SEAL Wolf Hunting (Heart of the Wolf, #16) by Terry Spear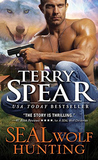 Paul Cunningham is one of the only bachelors left on the SEAL wolf team, and he's less than thrilled to hear he's been volunteered for a local charity bachelor auction.
Lori Greypaw suspected that her grandmother would use the auction as an opportunity to fix her up. So she's not surprised when she "buys" Paul to help Lori renovate her mountain cabin for a week. Lori's had a crush on the sexy SEAL wolf for years, but he proves to be handy with more than a hammer when two fugitives come knocking and he'll do anything to protect the woman he's falling for.
Spellbound (Warlocks MacGregor, #2) by Michelle M. Pillow
Let Sleeping Warlocks Lie...
Iain MacGregor knows how his warlock family feels about outsiders discovering the truth of their powers, its forbidden. That doesn't seem to stop him from having accidental magickal discharges whenever he's around the woman who has captured his attention. Apparently his magick and other "parts" don't seem to care what the rules are, or that the object of his affection just might be his undoing.
Warning: Contains yummy, hot, mischievous MacGregor boys who may or may not be wearing clothing and who are almost certainly up to no good on their quest to find true love.
Spellcasting in Silk (A Witchcraft Mystery, #7) by Juliet Blackwell
From the
New York Times
bestselling author of
A Vision in Velvet
comes more spooky sleuthing with Lily Ivory, vintage boutique owner and gifted witch…
Lily would like nothing better than to relax, enjoy her friends, and take care of business at her store, which is booming thanks to San Francisco's upcoming Summer of Love Festival. But as the unofficial witchy consultant to the SFPD, she is pulled into yet another case.
A woman has jumped off the Golden Gate Bridge, and her apparent suicide may be connected to a suspicious botanica in the Mission District. When the police investigate the shop, they ask Lily to look into its mysterious owner, whose granddaughter also appears to be missing. As Lily searches for the truth, she finds herself confronted with a confounding mystery and some very powerful magic.
The Scarlet Deep (Elemental World, #3) by Elizabeth Hunter
On the waves of the North Atlantic, a poison spreads, sapping the life from humans and striking madness into immortals.
Patrick Murphy, the immortal leader of Dublin, has been trying to stem the tide of Elixir washing into his territory, but nothing seems to stop the vampire drug. While others in the immortal world work to cure the creeping insanity that Elixir threatens, Murphy has been invited to London to join a summit of leaders hoping to discover who is shipping the drug. If Murphy and his allies can cut off the supply, they might be able to halt the spread long enough for a treatment to be found for the humans and vampires infected.
Anne O'Dea, Murphy's former lover, retreated from public life over one hundred years ago to help immortals in need… and to heal her own broken heart. Though powerful connections keep her insulated from the violence of vampire politics, even Anne is starting to feel the effects of Elixir on her isolated world. The human blood supply has been tainted, and with Anne's unique needs, even those closest to her might be in danger. Not just from infection, but Anne's escalating bloodlust.
When Anne and Murphy are both called to London, they're forced to confront a connection as immortal as they are. As they search for a traitor among allies, they must also come to terms with their past. Behind the safe facade of politics, old hungers still burn, even as an ancient power threatens the fate of the Elemental World.
When a Beta Roars (A Lion's Pride, #2) by Eve Langlais
How degrading. Stuck babysitting a woman because his alpha said so. As Pride Beta, he has better things to do with his time, like washing his impressive mane, hunting down thugs for fun, and chasing tail—sometimes his own if his lion is feeling playful.
But his babysitting job takes an unexpected turn when the woman he's assigned guard duty over turns out to be his mate.
A female threatened by an outside wolf pack.
A woman he wants to call his own.
A mate who doesn't fall for his charm.
Usually Beta's leave the roaring to the Pride's alpha, but in this case given his level of frustration, he might have to make an exception. And if anyone doesn't like it, they can kiss his furry tail.
Rawr!
Wicked Embers (Souls of Fire, #2) by Keri Arthur
Keri Arthur,
New York Times
bestselling author of
Fireborn
, presents the thrilling new Souls of Fire Novel featuring Emberly Pearson, a phoenix that can transform into a human—and is haunted by the ability to foresee death....
Crimson Death, the plague like virus spawned from a failed government experiment to isolate the enzymes that make vampires immortal, continues to spread. Emberly and her partner, Jackson Miller, are desperately seeking the stolen research for a cure before the virus becomes a pandemic.
But their mission is jeopardized by another threat uncovered in Emberly's prophetic dreams. A creature of ash and shadow has been unleashed on a murdering spree. Now Emberly must summon all her gifts and investigative knowledge to put an end to this entity's brutal rampage—even if it means placing herself in harm's way.
Witchlock (Belador, #6) by Dianna Love
The Beladors are back in WITCHLOCK, Book 6 of the bestselling urban fantasy series by
New York Times
bestseller Dianna Love.
Witchlock vanished in the 13th century… or did it? Some win. Some lose. And some will never be the same again.
After finally earning her place among the Beladors, Evalle is navigating the ups and downs of her new life with Storm when she's sucked into a power play between her Belador tribe and the Medb coven. Both groups claim possession of the Alterants-turned-gryphons, especially Evalle, the gryphon leader. But an influx of demons and dark witches into Atlanta threatens to unleash war between covens, pitting allies against each other as a legendary majik known as Witchlock invades the city and attacks powerful beings. Evalle has one hope for stopping the invasion, but the cost may be her sanity and having to choose which friend to save.