The second Wednesday of the month means we're focusing all Gift Ideas on a series we love, we've read recently or an author we adore!! This month we're celebrating Julie Ann Walker's new release "Hell or High Water (The Deep Six)"
! I'm currently reading it and really enjoying it. I know Kelly, from Books-n-Kisses already read it and reviews from both of us will be up soon!
We found some ideas themed to the book....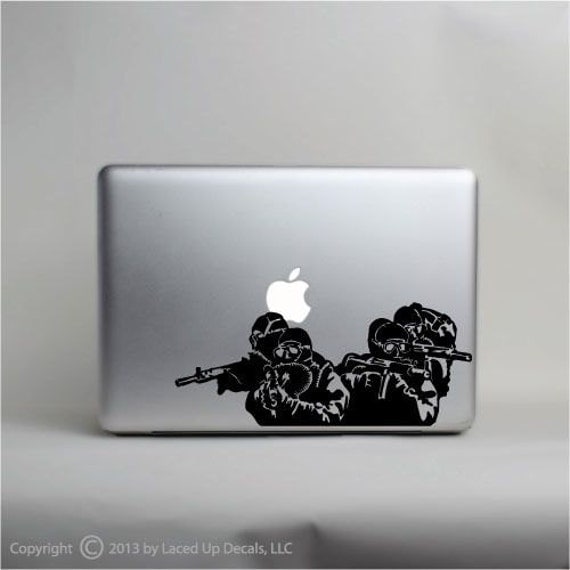 Cut from high quality vinyl that has an outdoor life expectancy of 5-8 years. The decal will be one color, the background will be whatever you are putting the decal on- this is a single color decal. Each decal will come on clean transparent transfer tape (not paper)for very easy application. Can be applied on outside of any smooth, flat, clean and dry surface. Great on laptops, glass, car windows, use your imagination. Instructions for application will also be provided.
What a great gift for the avid reader. I've also made these for a baby shower party favor. Not only will this bookmark stay in place with its fully magnetic backing (other magnetic bookmarks only have a small strip), but it will last for years and years. That's because it's not made out of paper or card stock like others out there. My magnetic bookmarks are made from real wood!!! This ultra thin wood gives it strength and durability, yet is flexible enough to be folded over and over again (DO NOT force the fold in the other direction or attempt to twist or tear the wood). I guarantee at least a 5 year warranty with normal use. But the nicest thing about it is the beauty of the engraving on real wood. Weather you like one of my current layouts or would like me to create something new and unique just for you, I guarantee you will love the feel and appearance of this product.
Bookmark is 1.5" wide, and approximately 2.5" high when folded (5" total length opened). It works like a money clip so it will hang onto the top or side of the page even if you drop your book. And since the wood and magnetic sheeting are ultra thin, it will not damage the spine of the book.
Inscription: I cannot live without books - Thomas Jefferson
Specifics:
*Pendant: 1-1/2" x 7/8" aluminum dog tag
*Chain: 24" long silver colored ball chain. All chains can be cut shorter if you'd like for free! Just message me. I can also switch the chain for a keychain if you prefer.
All my items (except pennies unless noted) come in a box ready for giving!
Please note - this is a hand stamped piece, so the depth and positioning of each letter is going to be different. It adds character to the piece. You will receive something very similar to the piece pictured, though not exactly the same.
This is a Pair of Vintage Galleon Ship Book Ends. They are Gold Painted Cast Iron and Signed 1925.
Measures 3 3/4" tall x 4 1/4" wide.
They are made of a cast-iron, painted gold on fronts and the backs are rusty.
Thank you for looking and visiting my shop.
... and then we thought since the book is set in the Florida Keys and it's all about sand, sun, adventure, and romance... how about some awesome gift ideas that every book lover should have while enjoying a beach read!! It is summer, right?
These very popular beach spikers are perfect to take to the beach! Perfect for your drinks, keys, phone, sunscreen- keep all of these items out of the sand with these spikers. Simply "spike" it into the sand and you're ready to enjoy. Our Monogrammed Beach Spikers come in a variety of colors, and fonts.
If a custom design is wanted please message me and I will make sure you receive what you are looking for!
Made of sturdy plastic, and personalized with permanent vinyl.
SIZE : 21" WIDTH X 15" LENGTH X 7" DEPTH
TWO BRAIDED ROPE TOP HANDLES
WIPE CLEAN
WHAT I NEED FROM YOU: (for each order)
1- Name or Monogram
Please double check spelling. Be sure monogram is given in the order you would like it on the tote (First, LAST, Middle), as they will be embroidered in the order given.
OR
**Initials will be embroidered in the order you give them to me.
**Classic monogram is First, LAST, Middle initials
2- Thread Color Of Your Choice
So fun to bring along to the lake, beach, pool or gym! So soft, and designed just for you! Can also make such fun gifts for bridesmaids, teachers, coaches, wedding, birthdays and beach trips!
Our towels are lightweight and super fast absorbent and drying! And not to mention cuddly soft!
The 30 x 60 polyester/velour blend towels are imprinted onto the fabric so it will not crack, fade, bleed, scratch or rub off. You can re-use over and over and the colors stay beautiful and vibrant.
Your price includes a design on one side of the towel. (We can customize both sides, message me for pricing)
Item Details
(1,770)
Shipping & Policies
Monogram Floppy Hat
Stay stylish this summer with our Adult Monogrammed Floppy Hat! Here we've personalized this floppy beach hat with a your 3 letter monogram in the style font and wording you prefer. ** These hats are 22" around the head **
Monogrammed Beach Chair
Low sitting sand beach chair
Folds for easy storage & transport
Monogrammed with Heat Transfer Vinyl. Glitter vinyl is shown in listing, unless Buyer specifies NON GLITTER, glitter vinyl will be used. Aqua chair is shown in listing.
We hope you have enjoyed these items and maybe grabbed some for yourself or for the book lover in your life!
If items are no longer available, please contact the seller to request further information.