I happen to agree with Mad Hatter Read's comment's below about all the goodies she's sharing with us today!!
So many temptations, so little time this week! Just look at all the new releases coming out this week…it's so hard to choose…which one to start first LOL! Happy reading everyone!
Queen of Abaddon (The Chosen Soul #3) by Heather Killough-Walden
Raven shoved herself to her feet, pulling from willpower she didn't know she had, to scramble to the railing that overlooked the remainder of the library seven floors below.
Drake of Tanith stood at the base of the stairs, looking up. The gray marble flooring at his feet appeared to have been scorched; a black scar of searing evidence radiated out from his boots in a star pattern. The smell of smoke filled the air. An angry magic-formed wind ripped through his hair and tore through his cloak, and yet he remained unmoving, a statue of absolutely beautiful darkness, with glowing eyes.
Those eyes imprisoned hers. Time stopped.
In that new stillness, he held her fast and slowly began to climb the stairs, a predator stalking skittish prey. The rest of the world fell away, and they were alone.
"Raven," he said.
His voice was that of the king of Abaddon now, and echoed with the power of his title. It was the embodiment of promise and need, that duo that tore down a strong person's last defenses to lay them out for the slaughter.
His glowing eyes flashed, his gaze intensifying as stark shadows claimed his face and his look became hungry. "I know you think you have to run from me." Another step, smooth and slow. "You believe there to be no other way."
'There isn't,' she thought. 'I have to… I have to do… something.'
"But some things were meant to be."
She could almost feel him upon her, his heat, his strength. She could smell the leather of his armor, and the scent of smoke was stronger now. And something else – magic. It was the aroma of dark magic, like black diamonds crushed into wine.
So close.
There was the faintest hint of a smile curling the corners of his sensuous lips. "You can't change fate." He shook his head, just once. "And fate decided on us long, long ago."
Queen of Abaddon is the long awaited, third and final installment in the romantic fantasy Chosen Soul series by New York Times bestselling author, Heather Killough-Walden. Within its pages, the hunt is on, a war is waged, and the ultimate sacrifice is made - for a love that defies the gods, changes the rules, and turns back time.
At long last, it will be a cold day in Hell.
Cursed (Immortal Brothers, #2) by Ice by Jacquelyn Frank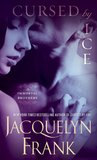 From New York Times bestselling author Jacquelyn Frank comes the smoothly sensual second book in an exciting new series featuring four immortal warrior brothers who must stake their hearts against their fate.
As punishment for plotting with his brothers to steal immortality, Garreth is suffering a freezing torment until the end of time. Again and again, his fierce fighter's physique is frozen into a chiseled ice sculpture, his heart hardening like a diamond in his chest—only to thaw and resume the chilling torture. Until, like his older brother Dethan, he is offered a reprieve from a goddess—in exchange for his allegiance in a celestial civil war.
Garreth lives to fight and fights to live. But while laying siege to an embattled city, he finds another reason to go on—a beautiful warrior woman named Sarielle, who commands a mythic beast through a mysterious and powerful bond. Terrified of her strength, the city rulers have kept her captive, and now she refuses to submit to a new master. As Garreth seeks to unleash her passion and melt the icy resistance of her heart, will he become her ultimate salvation—or lead them both to greater destruction?
Deception (Vampires in America, #9) by D.B. Reynolds
Kauai, Hawaii—tropical paradise, vibrant jungle, turquoise sea... and sensuous nights that hide vampires so powerful they can change the world.
Raphael—powerful, extraordinary, arrogant. He's been eliminating rivals and gathering allies, determined not just to survive, but to demolish the Europeans who think they can steal what he's worked for centuries to create. In a final bid to avert a war that seems inevitable, Raphael agrees to meet an enemy he knows of old. She is formidable, wily, and not to be trusted. But in his arrogance, Raphael believes he can foil whatever treachery she has brewing.
Cynthia Leighton—Raphael's human mate, beautiful, smart, and deadly when threatened. She doesn't trust anyone, much less a powerful vampire claiming to want peace. So while Raphael prepares to negotiate a treaty, Cyn is preparing for the inevitable double-cross that she knows is coming. Raphael worries about saving thousands of vampire lives. She only cares about one, and she will do anything to keep him alive and in her arms.
When Cyn is proven right, when it all falls apart and Raphael's enemies draw on ancient magic to trap him, taking him away from Cyn and out of the war, it all falls to her—to find Raphael, to save the thousands of vampires who will die if she doesn't succeed... and to kill every single being, human or vampire, who gets in her way.
Etherworld (Elusion, #2) by Claudia Gabel
In this sequel to
Elusion
, three teens fight a virtual reality program that threatens to destroy their minds. Dangerous secrets and lies add up to a thrilling futuristic fantasy with an
Inception
-inspired twist.
Elusion was hailed as an exciting leap in technology—until users began to disappear amid rumors of addiction. Regan's search for the truth led her and her new love interest, Josh, to Etherworld. Etherworld is a dimension hidden deep beyond Elusion's firewall, where players can hide, and ultimately fight back. Regan's father and others are here working to destroy Etherworld, but the longer they stay the less likely they'll be able to return to the real world alive.
Escape means attacking Elusion from within the program. It's dangerous and it's a puzzle. And even if they manage it, how will they be able to stop Orexis from distributing Elusion to the masses when the people who run it are corrupt?
Firestorm (Deadtown, #6) by Nancy Holzner
They call it Deadtown: the city's quarantined section for its inhuman and undead residents. Most humans stay far from its borders—but Victory Vaughn, Boston's only professional demon slayer, isn't exactly human.
When Vicky allowed an ancient goddess to possess her, she had no regrets—it was the only way to protect the people she loved. But now Ceridwen, locked in a power struggle with the Hellion that long ago claimed Vicky with its mark, refuses to leave. Both beings believe controlling Vicky is the key to winning the coming war for the human realm.
Despite the forces pulling her apart, Vicky needs all her wits about her. The demons of Hell are growing bold and she can barely keep up with the attacks plaguing the city: sirens in the Mystic River, goblins snarling traffic on Storrow Drive, imps tearing the gold from the State House dome. As the signs of war multiply and Hell threatens to overrun its boundaries, Vicky finds herself torn between her duty to save the world and her desire to save something of herself.
Hard as a Rock (Gargoyles, #3) by Christine Warren
Bestselling author Christine Warren returns to a mesmerizing world in which the laws of attraction are never written in stone—and love knows no bounds…
Her name is Wynn Powe. A woman of great instinct and inner resources—and insatiable beauty—Wynn has returned to Chicago to do what she does best: Locate Guardian statues. But the Order of Eternal Darkness has beat her to the punch, and the statue she's come to investigate has been blown to smithereens. An elusive enemy is on her trail…and this time, she's on her own. Until a mysterious package falls into Wynn's hands—one that contains contain a chunk of old stone, along with instructions for the spell required to summon a new Guardian.
HARD AS A ROCK
Enter Knox. He's a Guardian magically embued with the skills and memories of his race…and drop-dead, expertly-chiseled good looks. Bound to Wynn as his Warden, Knox vows to learn the truth about the destroyed Guardian—and protect Wynn at all costs. But he never could have imagined the fierce attraction that has taken hold of him, body and soul. Is his desire for Wynn worth the risk of being destroyed by the Order? The only thing he knows for sure is that he won't go down without a fight. Nor will he pass up a night of pure blind passion.
Hellbender (Fangborn, #3) by Dana Cameron
I-Day is near at hand, and soon the Fangborn will reveal themselves to humankind. As a member of this secretive race of werewolves, vampires, and oracles, will archaeologist Zoe Miller be prepared?
Still grappling with the newfound powers she gained after opening Pandora's box, Zoe shares the responsibility of protecting "Normal" humans. Having long preferred to keep to the shadows, she knows the pending revelation of the Fangborn will set the world on fire. With Fangborn enemies in the Order of Nicomedia forcing their hand, Zoe and her supernatural Family have no choice but to step into the spotlight. But that decision has garnered the attention of the powerful and otherworldly beings known as the Makers. They claim to have created the Fangborn—not as saviors, but as predators. And it seems they have their own plans for Zoe…and for the fate of all the Fangborn.
Filled with stunning twists, Hellbender takes the Fangborn series to a thrilling new dimension.
Instinct (Chronicles of Nick, #6) by Sherrilyn Kenyon
Zombies, demons, vampires, shapeshifters— another day in the life of Nick Gautier– and those are just his friends. But now that he's accepted the demon that lives inside him, he must learn to control it and temper the very emotions that threaten the lives of everyone he cares for. Something that's hard to do while trying to stay off the menus of those who want his head on a platter. And no one wants him more than the dark gods who created his race. Now that they know where he is, they will stop at nothing to reclaim him. And without knowing it, Nick has just embraced the one person he should never have trusted. The one person who will hand him over to his enemies to get back the life they lost.
Nick has finally accepted his fate, now he must learn to defy his destiny, and the dark, deadly forces that will stop at nothing to destroy everyone he loves so that they can again return to the world of man and own it.
King (The Dragon King Chronicles, #3) by Ellen Oh
Girl warrior, demon slayer, Tiger spirit of the Yellow Eyes—Kira is ready for her final quest. In this thrilling finale to the Prophecy trilogy, fans will get even more of the fierce Kira and her quest to save her kingdom!
All eyes are on her. Kira, once an outcast in her home village of Hansong, is now the only one with the power to save her kingdom. She must save her cousin, the boy fated to be the future king, uncover the third lost treasure, and face innumerable enemies in order to fulfill the famed prophecy.
Kira braves a sea of tigers and battles armies of demons as she musters her inner strength and learns to trust herself, the romantic feelings for Jaewon that are growing within her, and the destiny that must be hers.
Night's Blaze (Dark Kings, #5) by Donna Grant
That one simple kiss slayed him as nothing in his very, very long life had ever done. It physically hurt him to release her and turn his back on everything she offered, but it was for the best.
A KING WHO WALKS IN DARKNESS
The Rhys who has existed for centuries is gone. Stripped of his ability to shift forms, Rhys can no longer embody the majestic, powerful dragon he was at birth. Cut off from his heritage by one of his own, this Dragon King must remain a man, haunted by demons who torment his every waking moment. The darkness would swallow him whole . . . except a woman so beautiful and haunted becomes the one beam of light in his world...
A DESIRE THAT WILL NOT BE DENIED
Lily Ross is taking the first step in building a new life for herself. Still reeling from a relationship that nearly broke her spirit, Lily is wary of her attraction to brawny, brooding Rhys. The passion burning so brightly between them is a potent temptation, but any entanglement is destined to end in disaster. Yet when a spectre from Lily's past threatens their growing bond, Rhys is forced to choose with his heart, or lose this woman who has become his one chance at salvation.
Separation Zone (Immortal Ops, #7) by Mandy M. Roth
Tiger-shifter Jonathon Reynell has spent a chunk of his immortal life serving his country. As an I-Op his life revolves around the next mission, the next natural high. A soldier sent into the deadliest of combats, he didn't expect immortality to be an issue, to live on while everyone he knows and loves dies. When the toll begins to show and he finds himself at the bottom of another bottle, he decides to go back to his roots, back to his home to clear his head. Rock bottom is not where he expected to be when he found his mate with a rose in hand and his name on her lush lips. Tori is the very definition of perfection and beauty. She's also in the crosshairs of the enemy. And if there is one thing this sniper knows, it's that his sights are the only ones that should be set on her.
The Dead Play On (Cafferty and Quinn, #3) by Heather Graham
Play a song for me…
Musicians are being murdered in New Orleans. But Arnie Watson apparently died by his own hand. When Tyler Anderson plays the saxophone he inherited from Arnie, a soldier and musician who died soon after his return, he believes he sees visions of his friend's life—and death. He becomes convinced Arnie was murdered and that the instrument had something to do with whatever happened, and with whatever's happening all over the city…
Tyler knows his theory sounds crazy to the police, so he approaches Danni Cafferty, hoping she and Michael Quinn will find out what the cops couldn't. Or wouldn't. After all, Cafferty and Quinn have become famous for solving unusual crimes.
They're partners in their personal lives, too. Quinn's a private investigator and Danni works with him. When they look into the case, they discover a secret lover of Arnie's and a history of jealousies and old hatreds that leads them back to the band Arnie once played with—and Tyler plays with now.
They discover that sometimes, for some people, the line between passion and obsession is hard to draw. Only in uncovering the truth can they hope to save others—and themselves—from the deadly hands of a killer.
The Shadows (Black Dagger Brotherhood, #13) by J.R. Ward
Two brothers bound by more than blood fight to change a brutal destiny in the heart-wrenching new novel of the Black Dagger Brotherhood by #1 New York Times bestselling author J. R. Ward.
Trez "Latimer" doesn't really exist. And not just because the identity was created so that a Shadow could function in the underbelly of the human world. Sold by his parents to the Queen of the S'Hsibe as a child, Trez escaped the Territory and has been a pimp and an enforcer in Caldwell, NY for years- all the while on the run from a destiny of sexual servitude. He's never had anyone he could totally rely on... except for his brother, iAm.
iAm's sole goal has always been to keep his brother from self-destructing- and he knows he's failed. It's not until the Chosen Serena enters Trez's life that the male begins to turn things around... but by then it's too late. The pledge to mate the Queen's daughter comes due and there is nowhere to run, nowhere to hide, and no negotiating.
Trapped between his heart and a fate he never volunteered for, Trez must decide whether to endanger himself and others- or forever leave behind the female he's in love with. But then an unimaginable tragedy strikes and changes everything. Staring out over an emotional abyss, Trez must find a reason to go on or risk losing himself and his soul forever. And iAm, in the name of brotherly love, is faced with making the ultimate sacrifice.
The Skull Throne (Demon Cycle, #4) by Peter V. Brett
The first three novels in
New York Times
bestselling author Peter V. Brett's groundbreaking Demon Cycle series—
The Warded Man
,
The Desert Spear
, and
The Daylight War
—set a new standard for heroic fantasy. The powerful saga of humans winnowed to the brink of extinction by night-stalking demons, and the survivors who fight back, has kept readers breathless as they eagerly turned the pages. Now the thrilling fourth volume,
The Skull Throne
, raises the stakes as it carries the action in shocking new directions.
The Skull Throne of Krasia stands empty.
Built from the skulls of fallen generals and demon princes, it is a seat of honor and ancient, powerful magic, keeping the demon corelings at bay. From atop the throne, Ahmann Jardir was meant to conquer the known world, forging its isolated peoples into a unified army to rise up and end the demon war once and for all.
But Arlen Bales, the Warded Man, stood against this course, challenging Jardir to a duel he could not in honor refuse. Rather than risk defeat, Arlen cast them both from a precipice, leaving the world without a savior, and opening a struggle for succession that threatens to tear the Free Cities of Thesa apart.
In the south, Inevera, Jardir's first wife, must find a way to keep their sons from killing each other and plunging their people into civil war as they strive for glory enough to make a claim on the throne.
In the north, Leesha Paper and Rojer Inn struggle to forge an alliance between the duchies of Angiers and Miln against the Krasians before it is too late.
Caught in the crossfire is the duchy of Lakton—rich and unprotected, ripe for conquest.
All the while, the corelings have been growing stronger, and without Arlen and Jardir there may be none strong enough to stop them. Only Renna Bales may know more about the fate of the missing men, but she, too, has disappeared.
The Unleashing (Call of Crows, #1) by Shelly Laurenston
WINGING IT
Kera Watson never expected to face death behind a Los Angeles coffee shop. Not after surviving two tours lugging an M16 around the Middle East. If it wasn't for her hot Viking customer showing up too late to help, nobody would even see her die.
In uncountable years of service to the Allfather Odin, Ludvig "Vig" Rundstrom has never seen anyone kick ass with quite as much style as Kera. He knows one way to save her life—but she might not like it. Signing up with the Crows will get Kera a new set of battle buddies: cackling, gossiping, squabbling, party-hearty women. With wings. So not the Marines.
But Vig can't give up on someone as special as Kera. With a storm of oh-crap magic speeding straight for L.A., survival will depend on combining their strengths: Kera's discipline, Vig's loyalty… and the Crows' sheer love of battle. Boy, are they in trouble.
The Wicked Will Rise (Dorothy Must Die, #2) by Danielle Paige
In this dark, high-octane sequel to the
New York Times
bestselling
Dorothy Must Die
, Amy Gumm must do everything in her power to kill Dorothy and free Oz.
To make Oz a free land again, Amy Gumm was given a mission: remove the Tin Woodman's heart, steal the Scarecrow's brain, take the Lion's courage, and then Dorothy must die....
But Dorothy still lives. Now the Revolutionary Order of the Wicked has vanished, and mysterious Princess Ozma might be Amy's only ally. As Amy learns the truth about her mission, she realizes that she's only just scratched the surface of Oz's past—and that Kansas, the home she couldn't wait to leave behind, may also be in danger. In a place where the line between good and evil shifts with just a strong gust of wind, who can Amy trust—and who is really Wicked?
Twist (Loop, #2) by Karen Akins
The unbelievably thrilling sequel to the time-travel YA novel Loop.
Bree Bennis finally has it all—a non-comatose mother, an uber-hot (albeit anachronistic) boyfriend named Finn, and a new-found mission to protect the timeline from those who would skew it for their own gain. But when she leans over one day to smooch said boyfriend, her lips meet those of her arch-nemesis Wyck instead. The timeline has been altered, and Bree is caught in the crosshairs. But when she goes back to repair the damage, she is stopped by none other than her Future Self, who delivers an urgent message: Someone is kidnapping Shifters from the distant past. It's up to Bree to stop them. But first, she has to figure out who... and why.
To follow the trail of chronocrumbs, Bree reluctantly accepts her new undercover gig as Wyck's girlfriend. Everything goes spiffy until Finn shows up in the 23rd century on the eager arm of a gorgeous fellow Shifter, Blark. Even as Bree struggles with jealousy, she battles the nagging dread that Finn might be better off with someone less chronologically complicated. Her worst fear is confirmed when Finn becomes the kidnapper's next victim. As Bree zeroes in on the culprit, they unravel her life one timeline-change at a time. She realizes that she alone has the power to save herself and everyone she loves. But to do that, she may lose Finn forever.