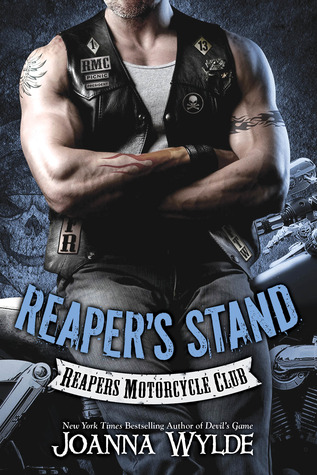 Reaper's Stand
(Reapers MC Series, Book #4)
by Joanna Wylde
Narrated by Tatiana Sokolov, Sean Crisden
Blurb:
As Reapers Motorcycle Club president, Reese "Picnic" Hayes has given his entire life to the club. After losing his wife, he knew he'd never love another woman. And with two daughters to raise and a club to manage, that was just fine with him. These days, Reese keeps his relationships free and easy—he definitely doesn't want to waste his time on a glorified cleaning lady like London Armstrong.
Too bad he's completely obsessed with her.
Besides running her own business, London's got her junkie cousin's daughter to look after—a more reckless than average eighteen-year-old. Sure she's attracted to the Reapers' president, but she's not stupid. Reese Hayes is a criminal and a thug. But when her young cousin gets caught up with a ruthless drug cartel, Reese might be the only man who can help her. Now London has to make the hardest decision of her life—how far will she go to save her family?
Available for purchase at
First time reading Joanna Wylde and loved it. Great story with great characters. I haven't read the previous books and while I wasn't lost I did feel like I was missing some of the connection so I would recommend reading the previous book. Yes, you can read this as a stand alone, but honestly, I'm guessing the previous books are just as good as this one so why would you want to?
Reese, AKA "Picnic" is one ALPHA MALE! He's the leader of the Reapers Motorcycle Club and doesn't waste time. He know what he wants and knows how to get it. Things don't go exactly as planned when it comes to London and this is what makes this a great story. Their interaction is awesome. Lots of bantering and she stands up for herself and doesn't put up with his bull!
London is a tough cookie though at times there were a few instances that I felt like I wanted to smack her for her indecision. But I guess that when you're in the middle of certain things, you're allowed to have a few times where you're questioning actions or thoughts. She was a strong heroine and very likable.
Reese and London had great chemistry and they were hot! They were also very compatible even though they come from different worlds. You kept waiting for things to drive them apart and when those things occurred, that's when Reese would hold on tighter to her.
Narrators Review:
Both Tatiana Sokolov and Sean Crisden did a great job narrating. Though I wish each would have narrated their respective characters instead of narrating based on the POV the book was written. Sean is new to me as a narrator and I immediately looked him up and added a bunch of other books he narrates! He's voice is oh so yummy!
Overall a great read and highly recommended. Loved it and I'll be reading more from Joanna!
Disclaimer:
We received a complimentary copy of the book from PENGUIN GROUP Berkley, NAL / Signet Romance, in exchange for an honest review. This review is my own opinion and not a paid review.