Its that time of year where we begin to think about gifts/presents for those in our lives. But why limit ourselves to this time of year only? I'm starting a new weekly series of cool and unique gift ideas for the book lover in your life!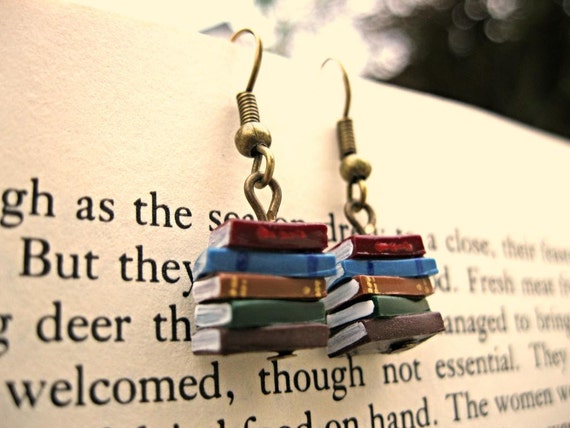 Stack of Books Earrings, Library Colours (Made to Order) - Book Jewelry by Coryographies
Love to read? Love someone who reads? Here is a perfect gift for the book-lover in your life!
These tiny earrings are made from polymer clay and hand painted to resemble a stack of books to dangle from each ear. Very cute!
As this item is made to order, it may differ slightly from the photo. Made to order items take 3-8 business days to make. I will message you when it's all finished and in the post!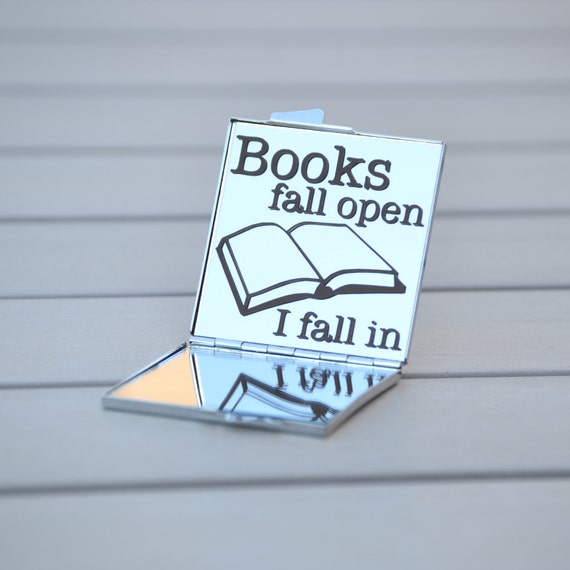 Gift for book lovers | Books fall open. I fall in. | Book worm, book club gift idea
This compact mirror is a perfect for any book worm. Inspired by David McCord's poem, this mirror includes the quote "Books fall open. I fall in" on the inside glass. It makes a great small gift for book lovers, book club members or friends.
This design can be done with a solid background in color (shown here in blue) or with the lettering as the color. The design works well either way. Let us know which way you prefer in the details of your order.
This mirror, like any other mirror in the shop, can be done in multiples. We created a large batch of this design for a librarian to give to her team. How fun is that?!? Message us for a discount on orders over ten.
- The mirrors are pocket-sized - 2.5"x2.5"
- Easily cleaned with a soft cloth
- Each mirror comes with a small bag to protect it from damage while hanging out in your purse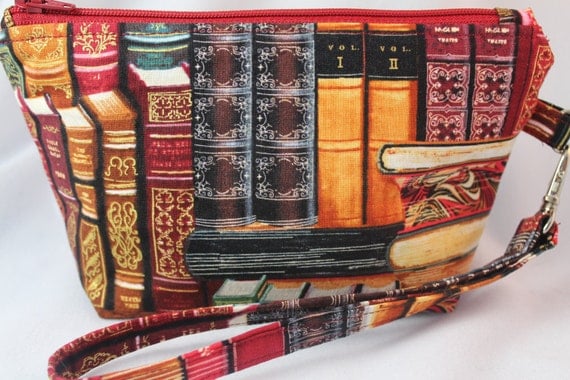 Book Shelf Wristlet Zipper Bag
Show your love of books and reading with this unique, handmade wristlet. It's just the perfect size to hold all your essentials. With an easy-to-remove strap and a beautiful design depicting a row of books, you'll grab this bag again and again.
It measures approximately 5"x8", just the right size for your phone, keys, cards, cash, and make-up. For longer outings, just remove the strap and toss in a larger bag or backpack.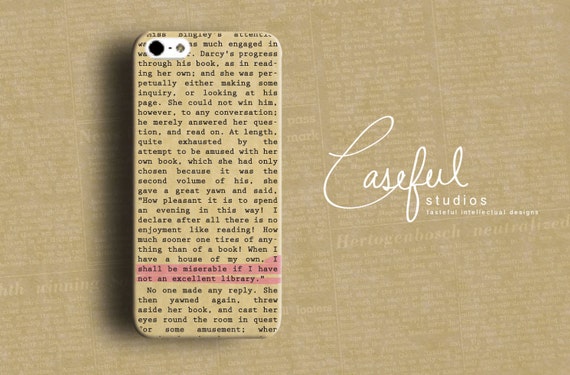 Pride & Prejudice Book Case iPhone Case - Jane AUSTEN iPhone 4 4s 5 5s 6 6Plus iPhone 5C Samsung Galaxy S3 S4 S5 for Book Lovers
Literature in a sentence: At Caseful Studios, we strive to design and produce tasteful cases for the literary inclined. We pick one line or quote to emphasize that is easily recognizable at a glance, or embodies the spirit of the work as a whole.
This phone case features a passage from Pride & Prejudice by Jane Austen, with the emphasized quote "I shall be miserable if I have not an excellent library."
** This item is currently MADE TO ORDER. Made to order details available on Store Policies page. **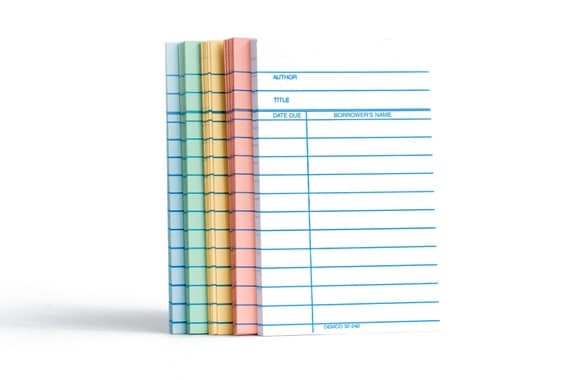 50 Assorted Library Cards
As seen in Martha Stewart Living Magazine!
A five-color assortment of 50 library cards - 10 of each color. Printed on sturdy card stock with tons of Old School appeal.
• 50 library cards (10 each of white, coral, goldenrod, green, and blue), 3" x 5"
Check out the shop for sets of 100 cards!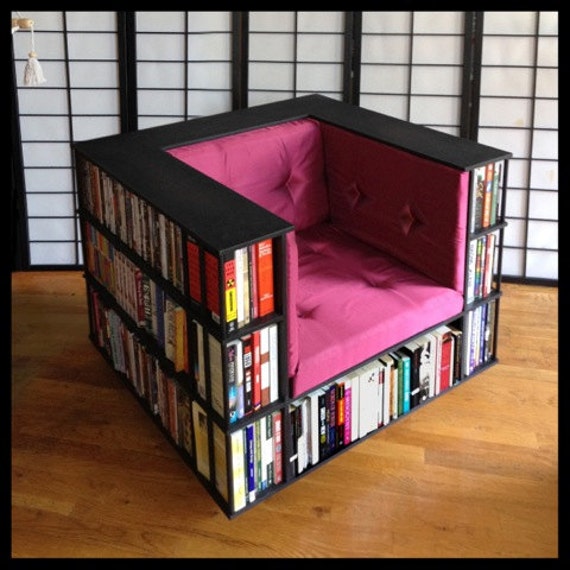 Luxury Club Library Bookcase Chair - Made to Order
Fully upholstered button-cushion club chair with armrests and a built in 27 feet of shelf storage for books and DVDs. Very comfortable deep seat, perfect for sitting and reading, enveloped by your library!
Secret compartment under seat, accessed from behind bottom shelf books, for hiding away those extra special things. On rolling castors for easy movement.
Can be upholstered in any material and painted in any color. Stained veneer surface available on top at additional cost.
An original Alexander Love design. Made to order, ships in 3-4 weeks. Please contact me with your zip code for a shipping quote.
If items are no longer available, please contact the seller to inquire further information.
Click here to see more gift ideas!!
Check back every Wednesdays for more awesome gift/present ideas for you or the
Book Lover in your life!!!