Its that time of year where we begin to think about gifts/presents for those in our lives. But why limit ourselves to this time of year only? I'm starting a new weekly series of cool and unique gift ideas for the book lover in your life!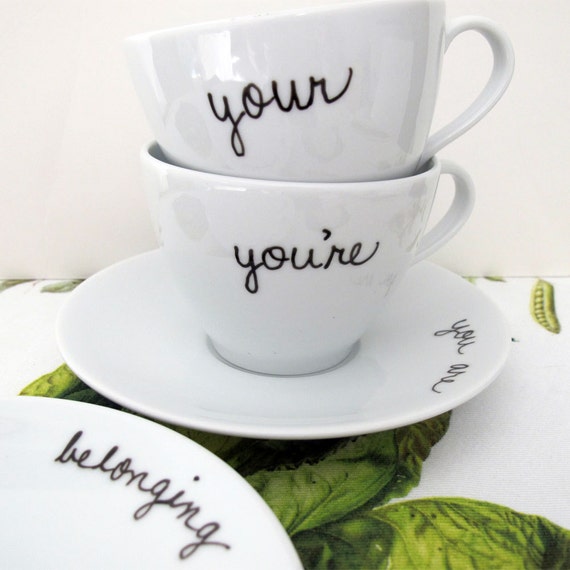 Grammar Teacup and Saucer Set of 2 Upcycled New Custom Made Most Misused Words Your You're
By
VenueDecor
$28.00 (plus S&H)
Enjoy your morning tea or coffee while you mind your grammar with these fabulous Grammar Cups :).
For all you grammar lovers out there, this Grammar Cup and Saucer Set of 2 features two of the most commonly misused words: "your" and "you're." The 8 oz porcelain cups feature the words of the hour, and the 6 inch saucers spell out the correct definitions on their topsides.
Bonus! The undersides of the saucers use the featured words in a sentence--spelling bee style! This set has "your smile is enchanting" and "you're looking quite lovely today." If you prefer, I can customize the set with the sentences of your choice. Include your request in the notes to seller section when you check out, or convo me for more information.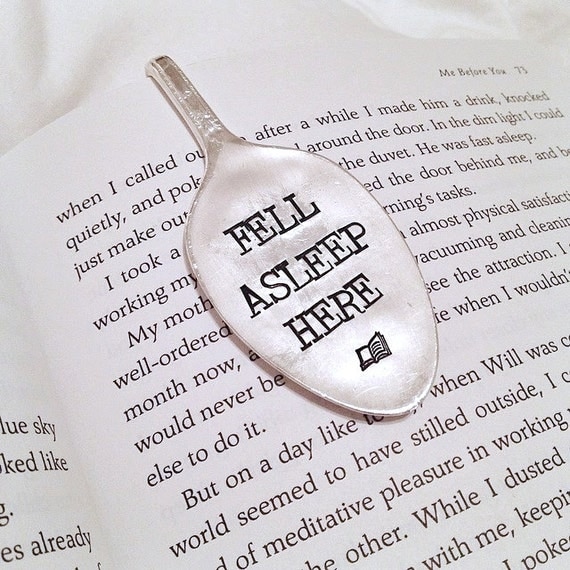 Fell Asleep Here - Spoon Bookmark
The cutest bookmark you ever did see!! Repurposed Iced Tea Spoon perfect for any book! The spoon bowl will be flattened and stamped and the handle is long so it won't slip out!
You will receive:
1 Spoon Bookmark
Phrasing "FELL ASLEEP HERE" with a book design stamp
If you would like to customize your own, please message me and we can discuss your custom phrasing!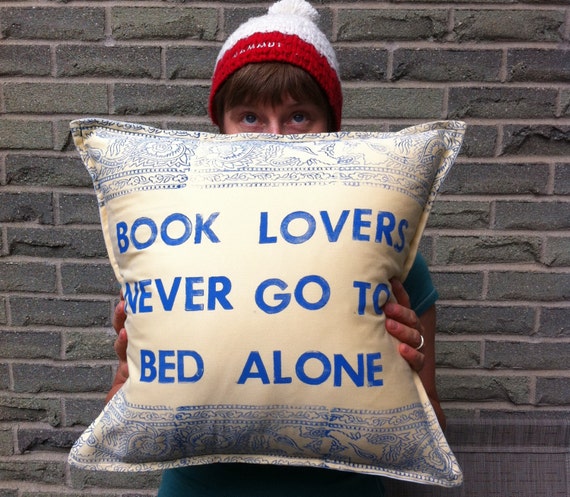 Book Lovers NEVER Go to Bed Alone Soft Cotton Pillow Cover
By
goodlines
$40.07 (plus S&H)
Have you ever fell so deeply in love with a book or it's characters that you just couldn't stop thinking about it even when you put the book down? Books have a way of comforting, ensuring not a single book lover ever goes to bed alone. The stories and characters stay alive in your mind even as the lights go out and the moon takes its place in the sky, loneliness is a myth in the world of books..
Made of 100% pre-loved cotton, hand stamped with antique wooden type found in a fishing village in Nova Scotia, the ink is complete non-toxic and safe enough to eat (though not recommended). Each pillow is carefully hand sewn to give each pillow a clean, finished edge. A standard 17" x 17" pillow insert fits beautifully into the envelope back and makes for the perfect sized pillow to hold closely to your chest or rest your head on.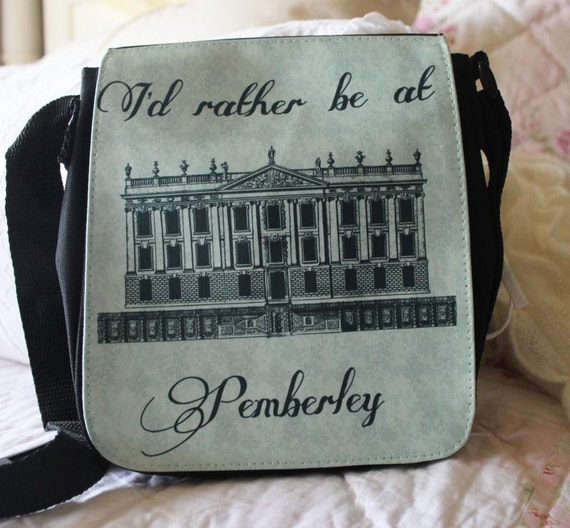 Jane Austen Pride & Prejudice Pemberley House SM Messenger Bag Shoulder Handbag
Be the talk of the group with this awesome messenger bag!
a perfect size for smaller things, such as a wallet, phone, and some lipstick!
Great as a gift item as well.
Features:
8.5" wide x 7" tall
adjustable strap
interchangeable flap cover
canvas material
1 inner slip pocket
If items are no longer available, please contact the seller to inquire further information.
Check back every Wednesdays for more awesome gift/present ideas for you or the
Book Lover in your life!!!