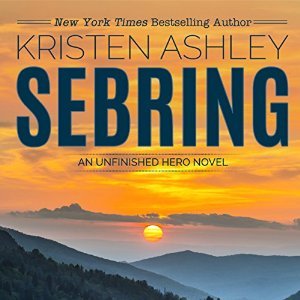 Sebring
(Unfinished Hero #5)
by Kristen Ashley
Narrator: Stella Bloom
Blurb:
Nick Sebring has issues. Born feeling like an outsider in his own family, growing up under the shadow of a brother who could do anything, Nick isn't that great of a guy. But when this culminates with Nick lashing out to hurt his brother through the woman he loves, Nick turns inward and makes some decisions about the man he intends to be. And as he does this, he falls in love and truly learns the man that he's grown to be.
When his love is murdered right before Nick's eyes, Nick knows he has to avenge her. He knows how he's going to avenge her. And he has no qualms about using Olivia Shade to exact that vengeance.
Olivia Shade has grown up on the outside of her family, too. Her problem is that they don't want her outside. They want her all the way in, right under their thumbs. She pays the price for seeking escape and learns her lesson - she'll never see a dawn where she wakes up free. Then she meets Nick Sebring, and even as she fights it, the hope that died years ago starts to blossom. She can find love. She can have a man of her own. She can be happy. She can be free.
Olivia hopes while Nick schemes. However, as Nick peels back the layers of all that is Olivia Shade, he finds something surprising. He understands its fragility. He falls in love with its beauty. He seeks to protect it. But he forgets to protect his Livvie from one thing: Nick Sebring.
Available for purchase at
I have loved this series from the beginning! We met Nick in the first book "Knight" and we were immediately intrigued by the younger Sebring brother who was jealous of his older brother and did a lot of bad.. okay, very bad things! We wondered if he could be 'redeemed' and if so, how the heck that would come about. Fast forward a few years and books and we find out that Nick did make that turn for good, but has lost... Determined to avenge his love's death he seeks to destroy those who murdered her. However, it's never that easy, is it? Nick believes Olivia Shade will be the way to bring the Shade Organization down. However, she herself is trapped and believes Nick to be a distraction and perhaps a person who will understand her because he himself is to some degree 'part' of her world in one way or another. This said as she doesn't know the exact details of his "work".
We get from the blurb that there is a relationship that blossoms between Nick and Olivia. The details and obstacles is what we get to enjoy as we read, or in this case listen to. The journey is interesting as there are a few twists and turns as well as old friends that pop up from previous books. Kristen does a great job in solidifying the relationship between Nick and his brother.
This is an "unfinished heroes" book so yes, there is action and yes there is definitely hot and steamy scenes! This is in fact a Kristen Ashley book and thus does not disappoint. I did have to giggle for a minute because there was a second there where another sex scene was going to start and I was thinking, "really?" because it just seemed like it was going to be a filler and then one the character surprised me with them wanting to do anything but... LOL. Part of one of the character's defense mechanisms, perhaps? Yet, everything else fit perfectly and after that one scene things fall right back into place and pace!
Narrator's Review: Stella did a great job with the narration and each of the characters. She provided each of them their own unique tones and voices ensuring the listener is able to follow with ease and there is no confusion as to whom is speaking throughout the book. Stella not only tells the story but performs for the listeners.
Overall, this is a great conclusion to a great series! Kristen did a phenomenal job closing all the loops and ensuring her readers got as much information as these unfinished heroes would allow them to get. LOL. They are a tough bunch, aren't they? The story had action and romance. The series itself had lots of both elements and again, an interesting concept because these are NOT the "good guys", yet we root for them and want them to have their HEA. However, as Kristen has said, it's not about them being "good" it's about them being themselves and and finding women to love that will accept them for who they are and what they do in life. And isn't that a goal for all of us? :) I'm sad that this series has ended, but LOVED how things were concluded. Brilliant!
Rating: 4.5 Stars - REALLY LOVED IT
Disclaimer:
I received a complimentary copy of this book from the audio publisher Audible in exchange for an honest review. This review is my own opinion and not a paid review.