A little bit of everything for this week's Gift Ideas for the Book Lovers!
Which one is your favorite?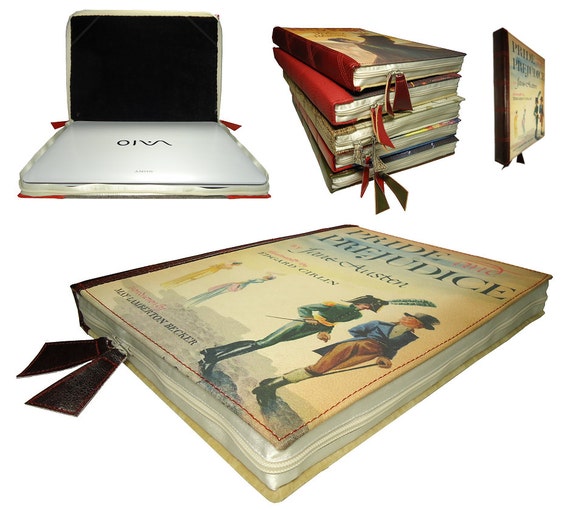 13" Macbook Pro Retina Case Pride and Prejudice Book - laptop macbook case - sleeve - zipper case - macbook air 13 inch - protective case
By
CaseWriter
$29.00
(plus S&H)
--PRIDE AND PREJUDICE by Jane Austen --
Do you know why old books have the aroma of vanilla and herbs? Memories of carefree childhood with lots of friends and vanilla ice-cream… Or maybe long summer evenings at your granny? Do you want to return into that world? After years of disturbing working days you can look through your old books in my shop and find your favourite!
I am lucky, as books of my childhood are still carefully kept by my mum. Yes, they are covered with spots, there are almost no color pictures, some of them have no cover, but they are so precious, they are my own ... Electronic gadgets can never replace books where each page remembers touching of little fingers. These books remind me of my school. Yes, because I read them from cover to cover.
I decided to recreate in my memory books of that time and turn them into cases for laptops. A good idea, isn't it? Using such kind of cover nobody will ever guess what's hidden inside your gadget. Case has thick cardboard cover, leather and canvas. There is the velvet and elastic bands inside, which keep your laptop safe while it is opened. Choose a preferred colour of internal velvet in options. Create your own library!
You can use this listing for a 13" Macbook Pro Retina. Macbook Size and Weight: Height: 0.71 inch (1.8 cm) Width: 12.35 inches (31.4 cm) Depth: 8.62 inches (21.9 cm) Weight: 3.46 pounds (1.57 kg)2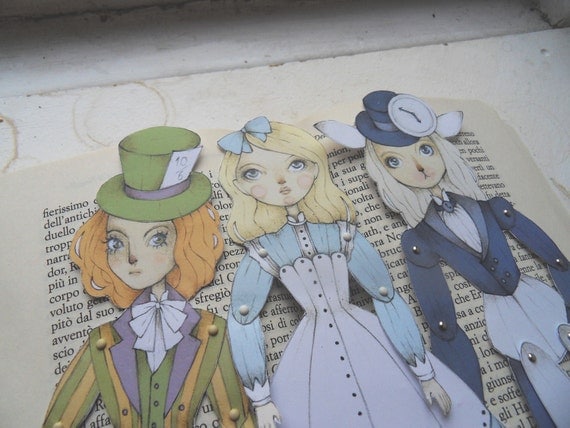 Alice in Wonderland Articulated Paper Dolls - Alice, Mad Hatter, White Rabbit, Illustration, Digital Print, Gift Ideas for Book Lovers, DIY
$5.17+ (plus S&H)
Alice in Wonderland articulated paper dolls. You can choose between Alice, the Mad Hatter or the White Rabbit!
The paper dolls are NOT assembled ! You will receive a digital print ready to be cut!
I will supply you with matching brads (2 mm diameter) to join the limbs of the character.
The dolls are printed on 160g smooth paper. The paper is not too thick and it is easy to cut it.
A finished doll is about 20cm of height and 7cm widht.
This can be a nice gift for every occasion and for someone who loves Alice in Wonderland and fairy tales.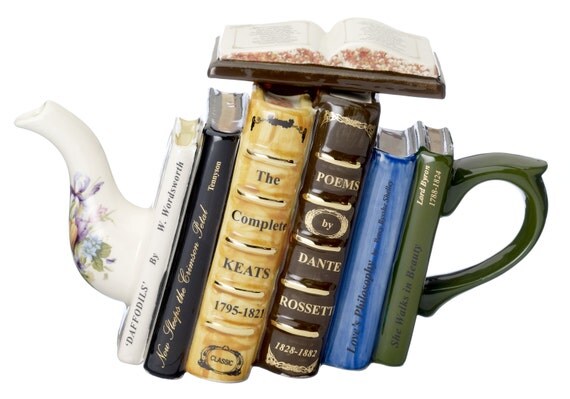 The 'Poetry Books ' Full Size Teapot
$103.40 (plus S&H)
This full sized novelty teapot depicts a stack of leather bound poetry books, by classic British and European poets such as Rosetti, Keats, Byron and others . An elegant looking and much admired, popular design . Real gold tooling details. Hand made, hand painted in the UK in our unique Suffolk pottery. Fully functional.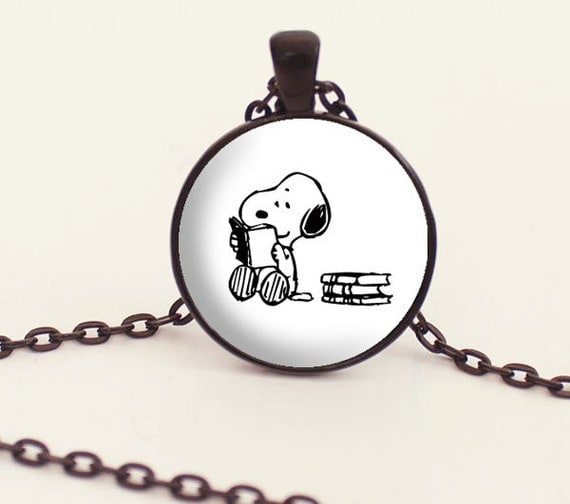 Reader Snoopy Pendant - Snoopy Jewelry - Black - Book Art - Charm Necklace (B9512)
$14.95 (plus S&H)
Reader Snoopy Black Pendant Necklace
This black enamel 1-inch charm includes a high quality link chain necklace. The image is printed on commercial printing equipment that I own. I carefully hand-seal the image under a glass dome (cabochon) with a process I developed. The result is a crystal clear and long-lasting necklace!
The 24-inch necklace can be shortened if you'd like. Just leave me a note when you check out. It will take your necklace 24 hours or more to cure completely before I can ship it. Charms are wrapped carefully and shipped as soon as possible. Let me know if you need other shipping arrangements, and we'll work something out.
BEFORE YOU PURCHASE:
Please read my policies page so you know what to expect for delivery times, refunds, custom charms, international orders, or anything else. If you don't find your answers on the policies page, then convo me. I'll be happy to help.
If items are no longer available, please contact the seller to request further information.
Click
here
to see more gift ideas!!
Visit us every Wednesdays for more awesome gift/present ideas for you or the
Book Lover in your life!!!