Hi Everyone!!
Somethings old and somethings new!
Scroll down below to see this week's ideas and let me know which one you like!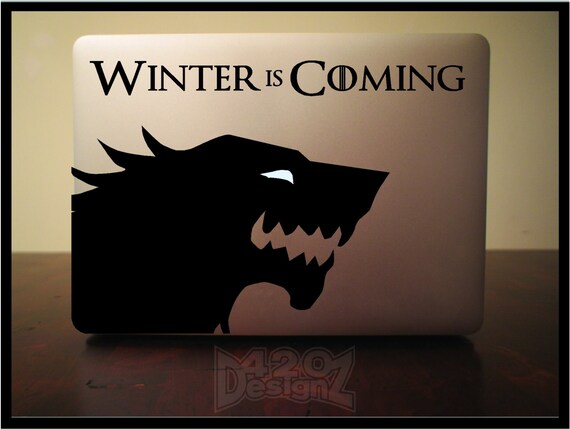 Winter is coming wolf- Macbook Air, Macbook Pro, Macbook decals, Sticker Vinyl Mac decals Apple Mac Decal, Laptop, iPad
By 420DesignZ
$9.99
(plus S&H)
- Decal is made to order
- Picture shows placement of sticker on a 15" surface. This will fit on a 13", 15" and 17" laptop.
This decal looks great on a PC or Mac laptop but can also be applied to any smooth surface: iPad, Windows, Mirrors, Tables, Doors, Tiles, Skateboards, Motorbikes, etc....
Easy to apply, these vinyl decals are durable, waterproof and adhere to most non-porous surfaces. They are easily removable, so you can change your mind at will.
PROUDLY MADE IN THE USA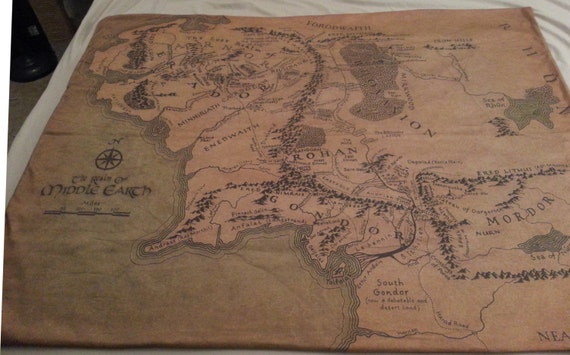 Lord of the Rings Middle Earth knit blanket - made to order
By Lord of the Rings Middle Earth knit blanket - made to order
$55.00 (plus S&H)
MY STANDARD TURNAROUND TIME IS 3-4 WEEKS. If you need something sooner, I can do that. However, it will require rushing the fabric for an additional fee (usually $20-30).
It is made using cotton knit. The front has my custom printed fabric and the back will be a plain, dark brown knit fabric. Both are super soft and lightweight, so it works well as a throw style blanket.
The blanket will be about 54" x 34".
All fabrics have been custom designed by me. They are printed using professional grade printers. This is the highest quality custom fabric that you can get. Washing instructions will be sent with every order. These instructions are the best way to ensure the items remain in the best condition for the longest time.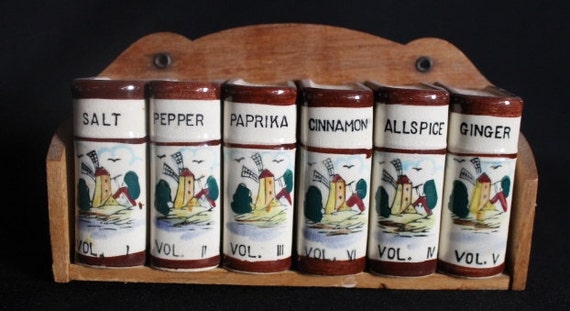 Vintage Spice Rack Book Shelf Hangs on wall Made in Japan 1950-1960
By RescuedTreasureShop
$24.00
(plus S&H)
Vintage Spice Rack Book Shelf Wooden Holder Japan
This spice rack was made in Japan and imported in the 50's or 60's.
The rack holds 6 volumes of books on a wooden shelf. The volumes are marked I, II, III, IV, and Vl . They are marked salt, pepper ,paprika , ginger, allspice , cinnamon . They have rich hand painted windmills on the front as part of the decoration.
The ceramic shakers or spice containers measure 3 inches tall, 1 inch wide and 2 inches deep. They have holes on the top for shaking the spice and holes in the bottom for filling the spice containers. All of the cork stoppers are there in very good condition. They are marked Japan.
The books set on a wooden book shelf that has two holes in the top for hanging the spices in your kitchen. The shelf measures 8 inches across and about 4 inches tall and 2 1/4 inches deep. This set is very good vintage with some crazing.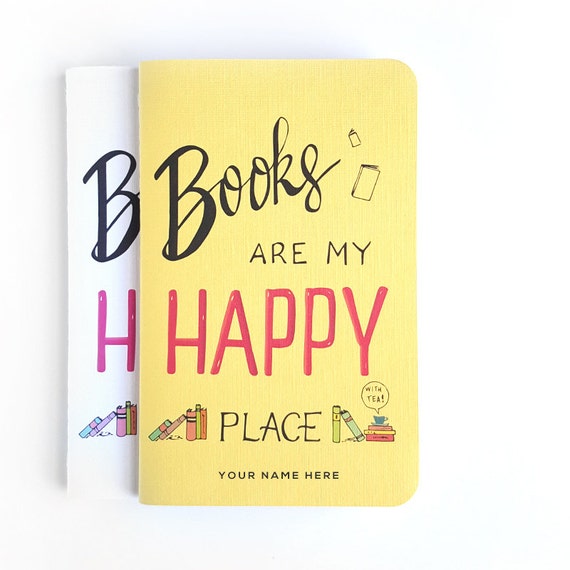 Books are my happy place — Yellow or White Hand Lettered Journal Notebook — 80 pages — Book Lovers, Book Nerds, Gifts for Readers
By IceyDesigns
$15.00+
(plus S&H)
This 5″ x 8″ journal features a gorgeous, slightly textured soft yellow or white cover with the quote 'Books are my happy place' across the front, handlettered just for you.
The interior features 40 (80, counting the front and back!) milky-white pages, ready for you to start jotting down your favorite books and their awesome quotes! Handlettered and handmade in the USA with a sturdy sewn binding, the journal ships in a clear, archival quality sleeve for safe-keeping and gift-giving.
If items are no longer available, please contact the seller to request further information.
Click
here
to see more gift ideas!!
Visit us every Wednesdays for more awesome gift/present ideas for you or the
Book Lover in your life!!!