Happy Release Day or as we like to call it Temp Me Tuesday!!!
Check out the other goodies Mad Hatter Read has for you this week!!!
I'm so excited this week.
Grave Visions
has been tempting me for
years
and it's finally here!!! *muppet flail* But as much as I've been looking forward to it, it's not the only serious temptation this week. What have you been looking forward to this week? Leave me a comment and let me know.
Assassin's Heart (Assassin's Heart, #1 ) by Sarah Ahiers
In the kingdom of Lovero, nine rival Families of assassins lawfully kill people for a price. As a highly skilled member of one of these powerful clans, seventeen-year-old Lea Saldana has always trusted in the strength of her Family. Until she awakens to find them murdered and her home in flames. The Da Vias, the Saldanas' biggest enemy, must be responsible—and Lea should have seen it coming. But her secret relationship with the Da Vias' son, Val, has clouded her otherwise killer instinct—and given the Da Vias more reason than ever to take her Family down.
Racked with guilt and shattered over Val's probable betrayal, Lea sets out to even the score, with her heart set on retaliation and only one thought clear in her mind: make the Da Vias pay.
With shades of The Godfather and Romeo and Juliet, this richly imagined fantasy from debut author Sarah Ahiers is a story of love, lies, and the ultimate vengeance.
Banished (Forbidden, #2 ) by Kimberley Griffiths Little
She thought she'd lost everything...
After spending months traveling the harsh, unforgiving Mesopotamian desert, Jayden reunites with a broken, injured Kadesh. Although everyone was convinced the violent and unpredictable Horeb, Jayden's betrothed, killed the handsome prince, Jayden knew in her heart that her love was alive and safe. But their reunion is short-lived, as they learn Horeb is on their trail and determined to take back the girl he has claimed. Soon, the two star-crossed lovers are on the run toward Sariba, Kadesh's homeland, where, as heir to the Kingdom, he plans to make Jayden his princess.
But the trek to Sariba is fraught with heartache and danger. After narrowly escaping being stoned to death for a crime she didn't commit, and learning that her sister has disappeared, Jayden's only solace is her love for Kadesh. But even he is keeping secrets from her...secrets that will change everything.
This gorgeous and enchanting sequel to Forbidden, is full of love, danger, and heated passion that will leave readers breathless.
Blood in Her Veins (Nineteen Stories From the World of Jane Yellowrock ) by Faith Hunter
In this must-have collection of stories, experience nineteen thrilling adventures from the world of vampire-hunter Jane Yellowrock, including many fan favorites and two all-new novellas. Read about the first time Jane put the pedal to the metal in "The Early Years," and the last thing a werewolf will ever see as Jane delivers justice in "Beneath a Bloody Moon." Get a searing look into the pasts of some of the series' best-loved characters: Beast in "WeSa and the Lumber King," Rick LaFleur in "Cat Tats," and Molly Everhart Trueblood in "Haints."
In the brand-new "Cat Fight," the witches and vampires of Bayou, Oiseau, are at war over a magical talisman—and Jane must figure out how to keep the mysterious artifact out of the covetous hands of the Master of New Orleans. And in the never-before-published "Bound No More," Jane welcomes a visit from Molly and her daughter, Angie, who is about to prove she's the most powerful witch in Everhart history....
From the Big Easy to the bad bayou, from the open road to a vampire's lair—with Jane Yellowrock, it's always a given: have stakes, will travel.
Darkness Fair (The Dark Cycle, #2 ) by Rachel A. Marks
Against the backdrop of an ancient battle between the forces of Light and the forces of Darkness, Aidan struggles to control the newly awakened powers that seem to be his only hope for rescuing Ava, his little sister, trapped somewhere beyond the Veil. As he gravitates to Kara, the dangerously unstable girl who helped him realize his abilities, a terrible mistake of fate is revealed that points him back toward Rebecca, whose role is becoming more critical to the battle. And no matter what his heart wants, it might be too late to stop the pieces already in motion.
Without knowing the sacrifices that will be required of them, Aidan and his motley crew of friends—each with their own role to play—must face the demon threat head-on. They're the only ones keeping the growing army of Darkness at bay, and if they fail, the future of humanity could be lost.
Darkness Raging (Otherworld/Sisters of the Moon, #18 ) by Yasmine Galenorn
The
New York Times
bestselling author of
Panther Prowling
returns to the Otherworld where one of the D'Artigo sisters faces a terrifying challenge that's more personal than she ever could have imagined.
We're the D'Artigo sisters: savvy half-human, half-Fae ex-operatives for the Otherworld Intelligence Agency. My sister Camille is a wicked-good witch. Delilah is a two-faced werecat and a Death Maiden. And me? I'm Menolly, a vampire married to a gorgeous werepuma. As the war in Otherworld arrives, Blood Wyne, Queen of the Vampires, summons me. Apparently, my position as Roman's consort entails more than I imagined...
As the Demon Lord Shadow Wing creates his own sinister version of the Keraastar Knights—the guardians of the spirit seals—to destroy the portals and free himself from the Sub Realms, his ally, the necromancer Telazhar, leads an assault from Otherworld into the streets of Seattle. And my sisters and I are caught dead center.
Then, on the eve of war, my wife, Nerissa, is captured. The enemy demands we surrender the rest of the spirit seals, or they are going to kill her. I will do anything to save her. Even if it means leading an army of vampires into the very depths of the Subterranean Realms.
Dreaming Death (Palace of Dreams, #1 ) by J. Kathleen Cheney
In the Novels of the Golden City, J. Kathleen Cheney created a "mesmerizing" (
Publishers Weekly
) realm where magic, history, and intrigue combine. Now, she presents a new world ruled by psychic talents and fatal magic...
Shironne Anjir's status as a sensitive is both a gift and a curse. Her augmented senses allow her to discover and feel things others can't, but her talents come with a price: a constant assault of emotions and sensations has left her blind. Determined to use her abilities as best she can, Shironne works tirelessly as an investigator for the Larossan army.
A member of the royal family's guard, Mikael Lee also possesses an overwhelming power—he dreams of the deaths of others, sometimes in vivid, shocking detail, and sometimes in cryptic fragments and half-remembered images.
But then a killer brings a reign of terror to the city, snuffing out his victims with an arcane and deadly blood magic. Only Shironne can sense and interpret Mikael's dim, dark dreams of the murders. And what they find together will lead them into a nightmare.
Driven (Otherworld Stories, #13.6) by Kelley Armstrong
Subterranean Press is pleased to present a long Otherworld novella by Kelley Armstrong, featuring a number of full-color illustrations by Xaviere Daumarie. The Trade Hardcover of Driven will feature a full-color dust jacket as well as four full-color interior illustrations. The Signed Limited Edition will have a completely different dust jacket, full-color endsheets, and two additional full-color illustrations not in the Trade. If you own a copy of the limited edition of Forsaken, please mention your number to match when checking out.
Cains are known for being big, brutish and not-too-bright. The mutt clan embodies all the supernatural world's worst stereotypes about werewolves. But not even the Cains deserve to be hunted down and skinned like animals.
When young Davis Cain comes to the Pack for help, Alpha Elena Michaels can't refuse him. It isn't about morality or justice. It's about not letting anyone think they can do this to werewolves and get away with it.
But Elena is also dealing with the Pack's homegrown monster—Malcolm Danvers, onetime enforcer, full-time psycho. Malcolm is now under Elena's control, as part of the most difficult decision she's had to make as leader. But if she has to let Malcolm in, she's going to make full use of him…and the best person to catch monsters is one who knows exactly how they think.
Limited: 1000 signed numbered copies, bound in leather
Trade: Fully cloth bound hardcover edition
Grave Visions (Alex Craft, #4 ) by Kalayna Price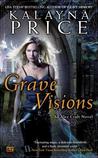 Grave Visions
by Kalayna Price is the much-anticipated fourth installment in the kick-ass urban fantasy series about Alex Craft, a grave witch who can communicate with the dead.
If you want to hear voices from the dead in Nekros City, you call Alex Craft. She's a Grave Witch with reasonable rates and extraordinary powers, who specializes in revealing the secrets of the dead. But now she's the one fighting to keep her own secret. She's not human—and her newly discovered heritage is causing havoc for her both in the human realm and in Faerie. But her status as an unaffiliated fae also makes her an ideal candidate to investigate a new street drug that has surfaced in several of the spaces between the human and fae worlds.
This glamour-infused drug causes hallucinations that turn real—at least for a while and often with deadly consequences. Searching for the source of this drug—and its purpose—lands Alex front and center in the conflict brewing in Faerie and she must find answers before she's dragged so deep she loses her freedom.
Private Eye (Tiger's Eye Mystery, #2 ) by Alyssa Day
When Tess Callahan, new owner of Dead End Pawn, meets her grandmother the banshee, life is about to get complicated. When Tess's partner Jack Shepherd, tiger shapeshifter and P.I., gets involved to help them investigate a banshee-kidnapping spree, life is about to get deadly. Because nothing is ever simple in Dead End, Florida, and sometimes it takes a tiger's eye to see the truth.
SEAL Wolf In Too Deep (Heart of theWolf, #18) by Terry Spear
Debbie Renaud is a police diver working on criminal cases with SEAL Allan Rappaport. She admires him greatly for his missions in the Navy, plus he's just plain HOT. Allan seems to share her attraction, but what she doesn't know is that her partner is wolf shifter.
Allan is really hung up on his smart, beautiful dive partner, but he can't get involved with a human outside dive duty. Yet when she gets between a werewolf hunter and his intended victim, one of the members of Allan's pack, they run into real trouble, and their lives are altered forever.
Stars Above (The Lunar Chronicles, #0.5, #0.6, #1.5, #3.1, #3.6 ) by Marissa Meyer
The enchantment continues....
The universe of the Lunar Chronicles holds stories—and secrets—that are wondrous, vicious, and romantic. How did Cinder first arrive in New Beijing? How did the brooding soldier Wolf transform from young man to killer? When did Princess Winter and the palace guard Jacin realize their destinies?
With nine stories—five of which have never before been published—and an exclusive never-before-seen excerpt from Marissa Meyer's upcoming novel, Heartless, about the Queen of Hearts from Alice in Wonderland, Stars Above is essential for fans of the bestselling and beloved Lunar Chronicles.
The Little Android: A retelling of Hans Christian Andersen's "The Little Mermaid," set in the world of The Lunar Chronicles. Glitches: In this prequel to Cinder, we see the results of the plague play out, and the emotional toll it takes on Cinder. Something that may, or may not, be a glitch. The Queen's Army: In this prequel to Scarlet, we're introduced to the army Queen Levana is building, and one soldier in particular who will do anything to keep from becoming the monster they want him to be. Carswell's Guide to Being Lucky: Thirteen-year-old Carswell Thorne has big plans involving a Rampion spaceship and a no-return trip out of Los Angeles. The Keeper: A prequel to the Lunar Chronicles, showing a young Scarlet and how Princess Selene came into the care of Michelle Benoit. After Sunshine Passes By: In this prequel to Cress, we see how a nine-year-old Cress ended up alone on a satellite, spying on Earth for Luna. The Princess and the Guard: In this prequel to Winter, we see a game called The Princess The Mechanic: In this prequel to Cinder, we see Kai and Cinder's first meeting from Kai's perspective. Something Old, Something New: In this epilogue to Winter, friends gather for the wedding of the century.
Wickedly Powerful (Baba Yaga, #3 ) by Deborah Blake
Known as the wicked witch of Russian fairy tales, Baba Yaga is not one woman, but rather a title carried by a chosen few. They keep the balance of nature and guard the borders of our world, but don't make the mistake of crossing one of them…
The only thing more fiery than Bella Young's red hair is her temper. She knows that a Baba Yaga's power without strict control can leave the people she cares about burned, so to protect her heart—and everyone around her—the only company she keeps is her dragon-turned-Norwegian-Forest-cat, Koshka.
But when Bella is tasked with discovering who's setting magical fires throughout Wyoming's Black Hills, she finds herself working closely with former hotshots firefighter Sam Corbett—and falling hard for his quiet strength and charm.
Sam may bear the scars of his past, but Bella can see beyond them and would do anything to help him heal. Only before she can rescue her Prince Charming, she'll have to overcome the mysterious foe setting the forest fires—a truly wicked witch who wields as much power and even more anger than Bella.