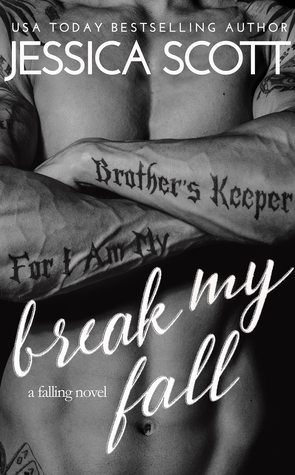 Break My Fall
(Falling Series, #2)
by Jessica Scott
Blurb:
Violence. I'm addicted to it. It's how I feel alive. It's the only thing that's real any more.
And now I have to sit around and discuss it like it's physics or calculus.
I can't do it. I can't pretend that it's some sterile academic topic.
Violence isn't sterile. It isn't calm. It's pulsing. It's alive.
Until I met Abby, I never wanted anything beyond the next fight.
Never considered that I might finally find a way back to the land of the living.
Now? Now I find myself dreaming of a woman with golden eyes.
But I can never be with her. Because I am not whole. And I never will be again.
But I cannot stay away. And loving her might finally be what breaks me.
Available for purchase at
Viviana's Review:
I've typed up this review a few times, trying to figure out how to word my thoughts and where to start..... This is a standalone, so if you're like me, and haven't read the previous book, you won't be lost. I've read Jessica's, the author,
Coming Home Series
and love them. Military heroes, each living with a struggle and trying to survive! Jessica's writing style is strong, yet simple. She writes emotional characters that readers are drawn to and can connect with.
Due to the fact that I've read Jessica's books in the past, I was intrigued that she had a new series titled
Falling Series
, and that it was going to be a New Adult..... though not a huge fan of that genre. I've learned that the author could make that genre awesome!
Both the author and the early review clips/teasers have all been saying how "dark" and "intense" and "emotional" this read is... stating how the hero is "damaged" and "unfixable" and when I was reading this.... I kept waiting to get to the real 'dark' parts. The truth? Jessica does an amazing job in telling and sharing the story of veterans, and Josh's is no different in that he is a a veteran who is trying his best to return to a 'normal' life has decided to go to collage. Yet, something was a bit flat for me. Maybe it was the first person or I had a hard time believing that a Vet would take the class Josh is taking considering his struggles.
Then there's Abby, the heroine. She also has a difficult past that she is a survival of and will not allow it to dictate her future. In Josh she sees the potential for some of her past to repeat itself, yet she believes the circumstances are different. However, in many of the pages, she goes back and forth in her head on how "this" possible attraction isn't a good idea one minute, then the next, she's instigating a conversation. Side note, I LOVED that there is diversity in this book! While it's not addressed in the blurb nor in the teasers or anywhere else actually, Abby is bi-racial. She also has a gay best friend. I like that it's not made into a big deal. Even within the story, there are times where Abby address this and anticipates Josh making it into a big deal and he doesn't... because it isn't. It shouldn't be.
I did have an issue with the 'insta-love' which is so the 'norm' in NA. Sigh.... I get that there is attraction, but there was this, well, instant love/'I have to be with you' and no real reason as to why. I understand that for Josh, this may be the first time there is a connection or something different, but take a minute and breathe dude. And for Abby.... same thing. If there was more of time period where they were getting to know each other and there was a solid foundation to showcase why she felt safe and why he felt that connection then okay. Again, this is the issue I have with NAs.
Going back to the "unfixable" and the "dark" and "intense" of the story and of Josh as a character. YES, Josh has issues like PTSD and as the blurb states, he believes he's addicted to violence, however, as you're reading the book, what you're getting from Josh is the opposite of that addiction. He is struggling from PTSD, and as with other Jessica Scott books, you get insight as to what Vets have to deal with from lack of support from the government to what other people think and how they are treated. However, there was ONE moment in the book, towards the end, that I could see where it would have been that really "oh... here's that DARK and INTENSE part people have been talking about" and it came.... and you're going "oh... let's see how it's handled" and sure enough.... Like in most NAs... it was easily solved with NO DARK or INTENSE....Don't get me wrong... Josh still has PTSD and as a couple, both Abby and Josh will have to learn how to communicate and deal with their stuff and each other's but that "Big Bad" ... yeah... taken care of. I sort of feel like that part was glossed over. Maybe because it is a NA?
Overall, I love that Jessica continues to address topics that need to be discussed and does it in a manner that are honest and readers can have ongoing conversations about. Though I was hesitant at first to pick this book up because it was labeled as an emotional, dark and intense read, I want to say her adult series is WAY more emotional and intense. Even the topics are darker, I'd say. Perhaps, some may consider this a 'darker' subject matter because the characters are 'younger' but the truth is they are adults. This are things adults of various ages have dealt with in the past and many are dealing with now. While a NA, I think it's okay to step away from that "insta-love" troop. I'm struggling between a 2.5 Star rating which is a "It was Really Okay" and a 3 Star rating of "I liked it". I did like it, but it was more like a 2.5 because of just can't get over the feeling that some of the intensity was glossed over due to the character's age..... But then.... 3 because again the diversity and the fact that topics are address that should be discussed!
Rating: 3 Stars- I Liked It
Disclaimer:
I received a complimentary copy of this book from the author, Jessica Scott in exchange for an honest review. This review is my own opinion and not a paid review.