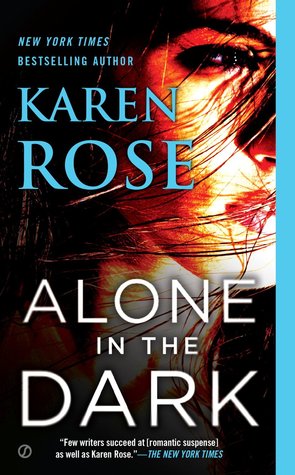 Alone In the Dark (Romantic Suspense Series #17/Cincinnati Series #2)
by Karen Rose
Blurb:
Homicide Detective Scarlett Bishop has seen enough bad guys slip through the cracks and innocent victims go unavenged to know that good doesn't always prevail. So far she's been able to lock away her rage and her vigilante fantasies. That lock is about to break.
Former Army Ranger Marcus O'Bannion is a fierce champion of victims' rights. His secret past gives him good reason. He believes he's seen the depths of human depravity, but then his investigation into the murder of a young girl who once asked for his help lures him and Scarlett down a dark, dark road—and straight into the crosshairs of a dangerous, powerful underground ring that deals in human trafficking. To stop them, Scarlett and Marcus have to be just as cunning and just as ruthless. But first they have to make it out alive.
Nina's Review:
Great Read! The first thing that stands out to me is the time tracking. I LOVE the ability to follow the story knowing how much long it passed between scenes. The book is laid out almost like a diary, which makes you really see what's happening and when it's happening. Such a fabulous way to enjoy the read!
This is the second book I read by Karen Rose (I started with the first one in the series (Closer than you think) and I must say, I'm so infatuated with her style. She has a talent for description that is organic and fresh. Certain passages I couldn't help but to put the book down for a while to really feel that moment before I could resume the read. Alone in the Dark had good amount of "aww" moments, and definitely more than a fair share of heart-breaking ones. I love when an author describes an emotion or feeling so perfectly that it paints an image in my head while I'm reading. KR does that and it's SO freaking cool!
Alone in the dark was fast paced, intriguing, and exciting. The mystery part revolved around a human-trafficking case and it was so enthralling. I enjoy it so much when I think I'm on to something and then everything gets turned around making me reevaluate the whole theory, that's what happened here up to almost the end. The romance part was fun, deliciously sexy, and sweet (sometimes almost too sweet - but that was okay too, it seemed appropriate for the main characters). Scarlet and Marcus were delightful together and with their flaws and all they were just perfect for each other. The secondary characters were also fascinating. Made me think whose story I'd like to read next. Adored learning more about Stone, Diesel, and seeing some of the characters from "Closer than you think" again. It gave a glimpse of what those characters were up to since the last book, so I HIGHLY recommend that you start from the beginning of the series, it will feel so much more satisfying.
There were a few loose ends that left me wondering if there will be a follow up to those topics on the next book, but probably unlikely, since this series seems to focus on a different couple's story at a time. It's just a hair below 4 stars for me, so I rated 4 stars.
Rating: 4 Stars - I Loved It
Disclaimer:
I received a complimentary copy of this book from Berkley Publishing Group in exchange for an honest review. This review is my own opinion and not a paid review.