I am honored to be hosting Donna's Dark Kings Playlist Tour to celebrate her latest release PASSION IGNITES!!! I'm also excited because not only is there an awesome giveaway but I get to kickoff this tour and feature her first Dragon King: Kellan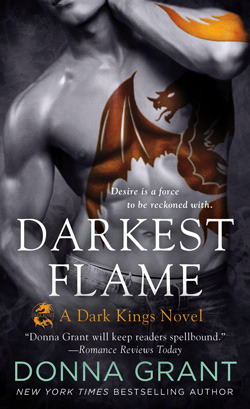 The Dark Kings have fought for centuries to preserve their dragon magic. It's been twelve hundred years since Kellan has walked among humans—and there's no denying the erotically charged attraction he feels for Denae Lacroix, a beautiful MI5 agent on a deadly mission. But as a Dragon King, he is sworn to protect his secrets. Is he strong enough to resist his greatest temptations? Or will he be forced to surrender—body and soul?
SONGS:
I'll Be Your Man by The Black Keys
Sex on Fire by Kings of Leon
Love Me Like You do (from the FSoG Soundtrack) by Ellie Goulding
You Shook Me All Night Long by AC/DC
Whole Lotta Love by Led Zeppelin
Wow! That is an interesting variety/mix of songs! Do these songs remind you of DARKEST FLAME (for those that read it)?

Do you create your own playlist when you're reading a book? Or does a song pop in your head when you're reading a scene? Or maybe you listen to a song and it reminds you of a book/scene in a story? What songs would you include for Donna's Dark Kings series?
Let us know in the comments below! Can't wait see what you'll suggest!!
Sooo you got to know a bit about Kellan,
now c
heck out Donna's latest release, learn more about the series and Donna and don't forget to enter the giveaway!!!!
He consumed her with that kiss, leaving no question that whatever was happening between them was meant to be—that it had always been meant to be…
HE LOVES FOR ETERNITY
Thorn is the bad boy of the Dragon Kings, a gorgeous, reckless warrior whose passions run wild and fury knows no bounds. When he sees the brave, beautiful Lexi being lured into the Dark Fae's trap, he has no choice but to rescue her from a fate worse than death. But by saving this tempting mortal, he exposes himself to his fiercest enemy—and darkest desires. As the war between Dragons and Fae heats up, so does the passion between Lexi and Thorn. And when love is a battlefield, the heart takes no prisoners…
SHE LIVES FOR VENGEANCE
Lexi is on a mission of justice. Every day, she searches for the monster who murdered her friend. Every night, she hides in the shadows and plots her revenge. But the man she seeks is more dangerous than she ever imagined. He is one of the Dark Fae who preys on human life, who uses his unearthly power to seduce the innocent, and who is setting a trap just for her. Nothing can save Lexi from a creature like this—except the one man who's been watching her every move…
Available for purchase at
Love this series and this was a great continuation!
You can read my full review here.
Donna Grant
is the New York Timesand USA Today bestselling author of the sizzling Dark King series featuring dragons, immortal Highlanders, and the Fae.
She was born and raised in Texas but loves to travel. Her adventures have taken her throughout the United States as well as to Jamaica, Mexico, and Scotland. Growing up on the Texas/Louisiana border, Donna's Cajun side of the family taught her the "spicy" side of life while her Texas roots gave her two-steppin' and bareback riding.
Despite deadlines and voracious reading, Donna still manages to keep up with her two children, four cats, and one long haired Chihuahua.
You can find Donna at
2 copies of THE DARKEST FLAME
and
2 copies of PASSION IGNITE
Disclaimer:
Giveaway provided by Publisher, St. Martin Press.
Terms and Condition information for giveaway are within the widget.
Viviana, Enchantress of Books is not responsible for giveaway item or delivery of item(s).