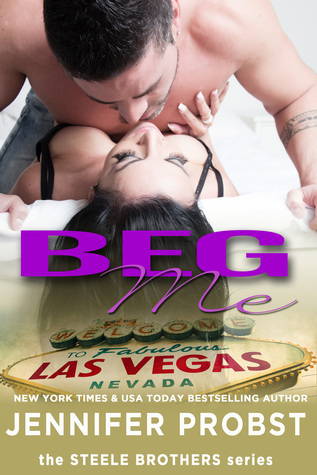 Beg Me
(Steele Brothers Series, #4)
by Jennifer Probst

Blurb:
Remington Steele comes to Vegas to be with his brothers and try to get over the one woman he's never been able to forget. As childhood sweethearts, she hadn't been able to handle his Dominant tendencies, choosing to run away without a good-bye. But when he's suddenly face to face with Cara Winters, all grown up and finally ready to be his, Remington needs to make his own choice. To leave the past behind forever, or forgive and be with the woman he's always loved?
Cara wasn't ready to be the type of woman Remington needed in his life, so she disappeared and broke his heart. But she's changed, and is ready to embrace the woman she always craved to be. She begs him to take her for one night, and Remington finally agrees. Will they get a second chance at love, or are the scars from their past too deep to heal?
ADVISORY: THIS IS A SHORT EROTIC NOVELLA WITH BDSM ELEMENTS. THIS IS NOT INTENDED FOR READERS UNDER 18 YEARS OLD. HAS BEEN REVISED TO INCLUDE ADDITIONAL SCENES.
Viviana's Review:
BEG ME is the fourth book in the "Steele Brothers Series" however; it's the first book in the series I've read. Good news is that they can be read as a standalone. BEG ME is a second chance romance novella with BDSM elements. Well… hold on… while the blurb and some of the other reviews state 'BDSM elements" the truth is this is a BDSM series. The brothers are all Doms, except one who is a sub. The relationships involve and include BDSM and the lifestyle. The good news is that Jennifer, the author, has done her research.
I'll admit it… I was curious to see how the novella would turn out…. Will it be filled with steamy sex scene and be low on story/plot? Or will it feel rushed? Would things be glossed over? I'm happy to say I really enjoyed this novella! Jennifer did a fantastic job of sharing Rem's and Cara's past with the reader while they try to figure out if they have a future. In between, they had the hot, steamy scenes. Both Rem and Cara are great characters; Rem is a sexy Dom who knows what he wants but believes he lost it years ago and hopes he may find it once again and Cara is in self-acceptance mode and seeking her limitations with hopes that Rem will be there with her.
Without spoiling it… I must say I LOVED Cara's reason for leaving. Or rather that she knew she needed to do it vs. just 'letting things be' or 'accepting'. I loved that she told Rem what she needed to do. Granted, sucks that hearts were broken, but this reason is one of the best ones I've read in a while vs. gossip of cheating or misinterpretation that could have been fixed if the couple just spoke to each other.
Overall, a great quick read with a full story and great characters.
Rating: 3.5 Stars - I Really Liked It
Disclaimer:
I received a complimentary copy of this book from the author, Jennifer Probst in exchange for an honest review. This review is my own opinion and not a paid review.