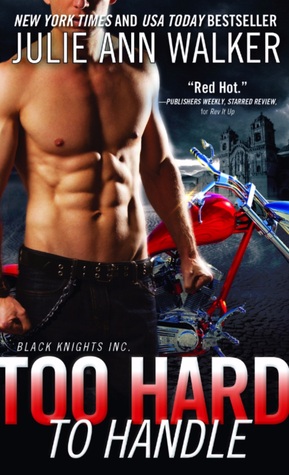 Too Hard to Handle
(Black Knights Inc. Series, #8)
by Julie Ann Walker
Narrated by: Lesa Lockford
Blurb:
New York Times and USA Today bestselling author Julie Ann Walker continues her red-hot Black Knights Inc. series in rough-and-tumble Peru
"The Man" is back
Dan "The Man" Currington is back in fighting form with a mission that takes him four thousand miles south of BKI headquarters, high in the Andes Mountains of Peru. He's hot on the trail of a rogue CIA agent selling classified government secrets to the highest bidder, when Penni DePaul arrives on the scene. Suddenly the stakes are higher, and keeping Penni safe becomes Dan's number one priority.
And this time she's ready
A lot has changed since former Secret Service Agent Penni DePaul last saw Dan. Now a civilian, she's excited about what the future might hold. But before she can grab onto that future with both hands, she has to tie up some loose ends-namely, Dan Currington, the man she just can't forget. And a secret that's going to change both their lives-if they can stay alive, that is.
You can purchase at
Viviana's Review:
I was a bit hesitant in pick this up because it's the eighth book in the series and I feared that I would be lost. The good news is that it isn't the case. This reads as a standalone. It does make you want to go back and start the series at the beginning.
Julie did a great job of providing the reader with Dan's history without throwing out all the info out there at once. I'm sure this was a great thing for those that have read the previous books.
The story was pretty action packed from the get go. This moves the story along and keeps the readers engaged. The secondary characters, Dagan and Chelsea, are also a hoot and intriguing. I'm looking forward to reading their story and hope they are next (if not soon).
Penni is a strong, independent woman who is there on a mission. After everything Dan has been through, I'm glad things worked out the way they did.
Narrator Review: Lesa did a great job with the different characters and providing them with different voices and tones. She also does a great job with the narration and telling of the story.
Action packed! There's Romance! There's witty conversations. Smart woman who kick ass. My kind of series!
Rating: 4 Stars - Loved it
Disclaimer:
I received a complimentary copy of this book from SOURCEBOOKS Casablanca in exchange for an honest review. This review is my own opinion and not a paid review.