Today we have a variety of items and one in particular that reviewers will like!! Check out this week's "Gift Idea For The Book Lover"! Scroll down below and check out this week's items and let me know which
is your favorite?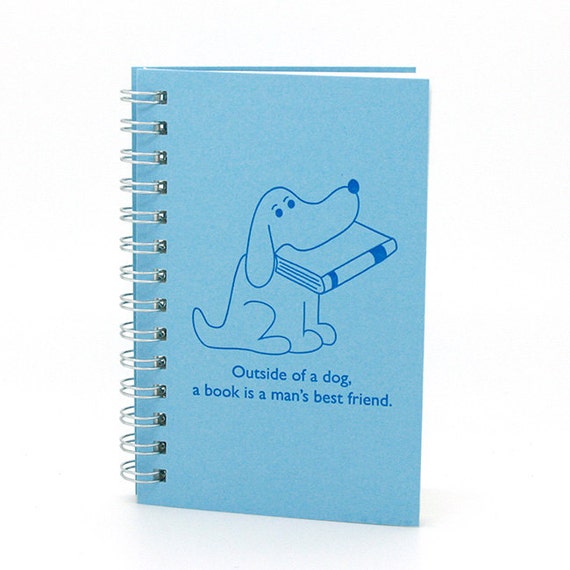 Reading Diary for book lover, Dog lover Present, Journal, Organizer, Graduation, Literary gift idea, Reader Gift Idea, Blue, Book tracker
$10.00 (plus S&H)
This little dog loves books as much as you do, and wants to help you keep track of what you read throughout the year. This little pocket diary, just the right size for a purse or next to your bed, lets you record the date, title and author of books you read, as well as add a rating and some notes.
The cover is letterpress printed, in orange on yellow or green on green. The interior paper is white.
Enough room to list and rate 118 books.
You pick cover color -- yellow/orange or green/green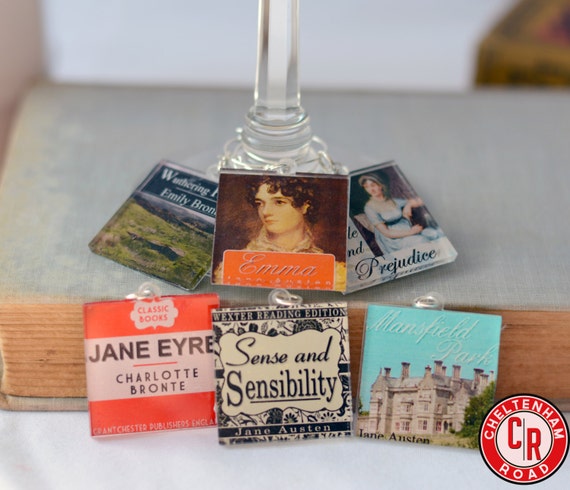 Book Club Wine Charm Set, Classic Book Cover Wine Charms, Jane Austen Wine Charms, Book Club Party Favor, Hostess Gift, Book Lover Gift
$18.00 (plus S&H)
A wine charm set featuring classic book covers. The perfect gift for a book club hostess or a great party favor. Jane Austen, a couple of Brontes - they're all here! There is even a charm for the designated driver (Sense and Sensibility).
The charms are made from laser cut acrylic and measure 1.25" square. Each charm attaches to the glass with a sterling silver loop. Easy to clean with a damp cloth.
This is a made-to-order item and fabrication time is approximately five business days.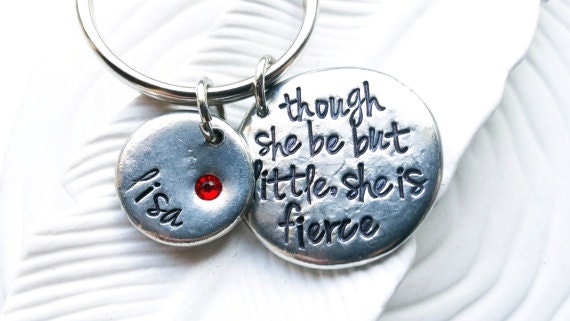 Though She Be But Little She Is Fierce Keychain - Shakespeare Quote Keychain -Personalized Hand Stamped Keyring -Motivational Gift for Her -
$35.00 (plus S&H)
Though she be but little, she is fierce, or the hand stamped quote of your choice, on our signature pewter pebble keychain. The larger pebble can be stamped as shown, or with the text of your choice (send me a convo if you're not sure if it will fit) and measures approximately 1" (25mm) The smaller pebble measures 5/8" (16mm) and has been hand set with a sparkling, Swarovski Crystal Elements birthstone of your choice. Please select your stone choice from the drop down menu, choices are in photo #5. Both pieces are hung from a split ring keyring.
Your keychain will come in our signature gift box.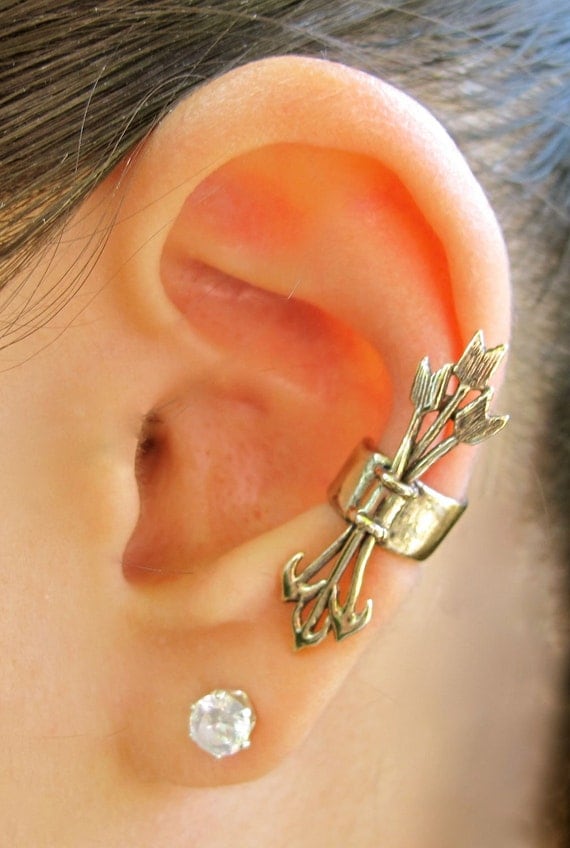 Arrow Ear Cuff Bronze Quiver And Arrows Ear Cuff Hunger Games Inspired Jewelry Arrow Jewelry Non-Pierced Earring Valentines Day Gift
$22.00 (plus S&H)
This antique bronze, Quiver and Arrow Ear Cuff is inspired by the Hunger Games, written by Suzanne Collins, this fanciful ear cuff is 1 1/4" long. Shoot straight and "May the odds be ever in your favor!" This Ear Cuff is available for the left or the right ear. Please let us know which ear you want to wear it on. If you do not specify your ear preference, we will ship the version pictured. (Diamond not included.)
Our ear cuffs require no piercings. Starting near the top of the ear, slide the ear cuff down along the edge of the ear's cartilage. You may gently open or close the opening of the ear cuff to accommodate the thickness of your ear.
Our bronze ear cuffs are antiqued lightly, and bronze will tarnish, or patina over time. To maintain the golden color, clean with Mrs. Wright's Silver Cream and rinse with water. Do not dip in liquid anti tarnish cleaners.
If items are no longer available, please contact the seller to request further information.
Click here to see more gift ideas!!
Visit us every Wednesdays for more awesome gift/present ideas for you or the
Book Lover in your life!!!