I've been saving a few of these items for a while and I can't wait to share them with you! Hope you like this week's "Gift Idea For The Book Lover"! Scroll down below and check out this week's items and let me know which
is your favorite?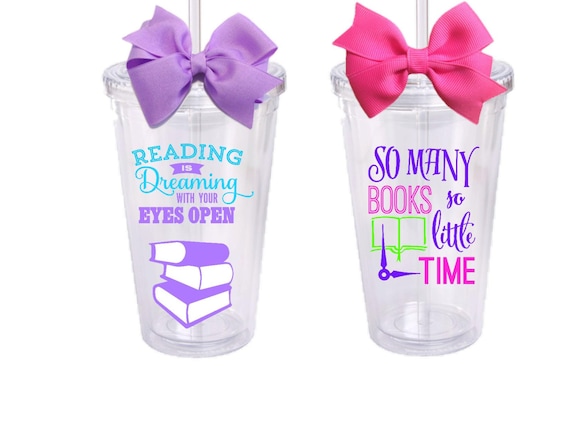 Book Lovers, Librarian, Personalized Acrylic Tumbler, Custom Designed to Order
$ 13.00+ (plus S&H)
These personalized acrylic tumblers hold 16 oz. and are double wall insulated. Each tumbler comes with a screw on lid with rubber gasket and a matching straw with guard. Our tumblers fit in any standard drink holder and are BPA free.
Tumbler cups are clear. You may leave any other information such as personalization in the message box when purchasing. If you would like a name on the back of the tumbler, please leave this information in the message box at checkout.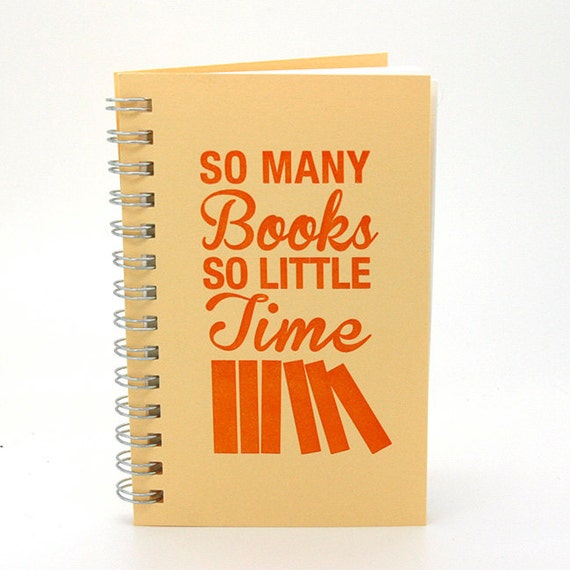 Book Nerd Gift, Reading Diary, Literary gift idea, Book Lover, Organizer, Journal, Gift for Reader, Yellow Orange, Graduation Gift, type
$10.00 (plus S&H)
A Reader's Diary: So Many Books, So Little Time
I like to keep track of what I read throughout the year and what I thought about each book. This little pocket diary is my way of doing that.
This 3-1/4"x5" 60 page spiral bound journal lets you record the date, title and author of books you read, plus rate the book and add some notes.
The cover is letterpress printed, in orange on yellow or green on green. The interior paper is white.
DETAILS:
Dimensions: 3-1/4"x5"
Number of pages: 60.
Enough room to list and rate 118 books.
You pick cover color -- yellow/orange or green/green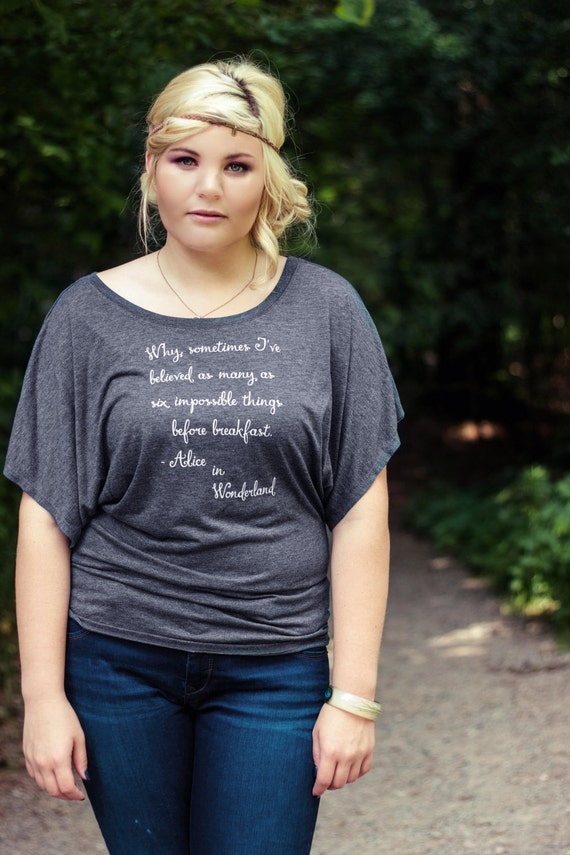 Quote Shirt Alice in Wonderland - Womens Graphic Tee Book Lover Wonderland Shirt - six impossible things before breakfast quote
$27.00 (plus S&H)
My hand screen printed design features the following quote from Alice in Wonderland and Through the Looking-Glass by Lewis Carroll on a beautiful, feminine women's flowy dolman sleeve shirt:
"Why, sometimes I've believed as many as six impossible things before breakfast. -Alice in Wonderland"
When I was a child, the first version of Alice I read included both Alice's Adventure's in Wonderland and Through the Looking-Glass, and What Alice Found There. They are often included together, both in book form and in screen adaptations. Since all that wouldn't fit on the scarf, I've used the common shortened version of Alice in Wonderland. I was absolutely charmed by all the fanciful language and non-sensical characters. This quote is said by the White Queen, and this is the larger quote from the book:
Alice laughed. "There's no use trying," she said: "one can't believe impossible things."
"I daresay you haven't had much practice," said the (White) Queen. "When I was your age, I always did it for half-an-hour a day. Why, sometimes I've believed as many as six impossible things before breakfast..."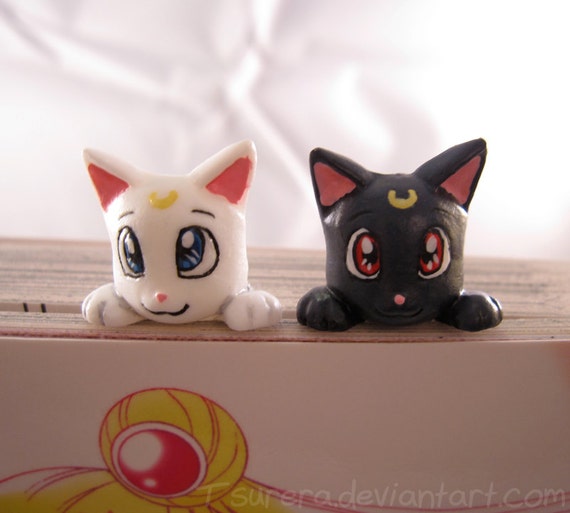 Sailor Moon Luna Artemis Glow in the Dark Bookmark - Cat cute Book Mark bookmarks- Quirky Fun Reading - Black White Usagi
$9.99 (plus S&H)
Finished reading for the day? Need something super cute to hold your place while you're gone?
Of course you do!
Luna and Artemis are cast in white resin so the only painting on them is above the book. I then seal it with a water resistant sealer so no paint will transfer.
As a fun treat, their crescent moons will glow in the dark if exposed to UV light!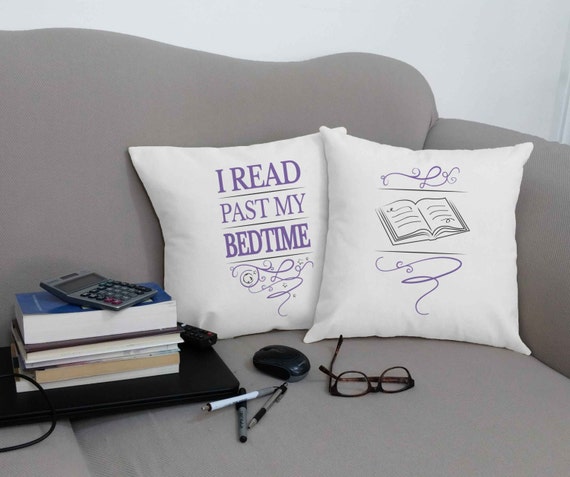 I Read Past My Bedtime Pillows - Book Lover Pillow Covers and or Cushions - Library Pillows, Book Print, Quirky Gift, Reading Pillow Pair
$35.99+ (plus S&H)
These simple but quirky I Read Past My Bedtime Pillows are great for adding a fun touch to any room or living space. Available in white or natural canvas and in 3 different sizes, this pillow set makes the perfect gift for the book lover in your life.
:::::::::: FEATURES ::::::::::
• Only sold in pairs. Choose your favorite pillow pair.
• Prices are for a set of 2. Available in 14x14, 16x16 or 18x18 inches.
• Handmade to order in the USA.
• Our indoor pillow covers are 100% cotton. Our indoor/outdoor pillow covers are made of weather resistant synthetic fabric.
• No messy zippers! All pillow covers have sham style closures on the back and feature 3 quality wooden buttons.
• Removable pillow covers make washing really easy.
• Back of pillow is a plain natural or white canvas fastened together by a three button closure.
If items are no longer available, please contact the seller to request further information.
Click here to see more gift ideas!!
Visit us every Wednesdays for more awesome gift/present ideas for you or the
Book Lover in your life!!!