Happy Release Day or as we like to call it Temp Me Tuesday!!!
There are some terrific temptations coming out Tuesday AND Wednesday this week. So don't blow your book budget all in one day! Take a peek at what I've found for us and let me know if I've missed the one you've been looking forward to.
Artemis Invaded (Artemis Awakened, #2) by Jane Lindskold
In
Artemis Invaded
, Jane Lindskold returns to the world of Artemis, a pleasure planet that was lost for millennia, a place that holds secrets that could give mankind back unimaginable powers.
Stranded archaeologist Griffin is determined to make his way back to his home world with news of the Artemis discovery. He and his gene-modified native companion, the huntress Adara, and her psyche-linked puma Sand Shadow, set out to find another repository of the ancient technology in the hope that somehow Griffin will be able to contact his orbiting ship.
In the midst of this, Adara wrestles with her complex feelings for Griffin-and with the consequences of her and Sand Shadow's new bond with the planet Artemis. Focused on his own goals, Griffin is unaware that his arrival on Artemis has created unexpected consequences for those he is coming to hold dear. Unwittingly, he has left a trail-and Artemis is about to be invaded.
Burned by Darkness (Dragons of Eternity, #1) by Alexandra Ivy
The Dragons of Eternity were once creatures of myth and legend. Now they've returned to the world, prepared to claim what's rightfully theirs…
Tayla is desperate for a place to call home. After years on the run, the young imp impulsively buys a teahouse and is determined to build a new life. Unfortunately, she's barely opened the doors when she's tracked down by the dragon who purchased her from troll slave-traders. He demands she pay off her debts…in his harem.
Baine has devoted a quarter of a century to tracking down his beautiful concubine. And now that he has her in his grasp, he's not about to let her go. But it's soon apparent that he isn't the only demon hunting her. He must uncover her secrets or risk losing her forever.
Darkness Brutal (The Dark Cycle, #1) by Rachel A. Marks
Aidan O'Linn's childhood ended the night he saw a demon kill his mother and mark his sister, Ava, with Darkness. Since then, every three years the demons have returned to try to claim her. Living in the gritty, forgotten corners of Los Angeles, Aidan has managed to protect his sister, but he knows that even his powers to fight demons and speak dead languages won't keep her safe for much longer. In desperation, Aidan seeks out the help of Sid, the enigmatic leader of a group of teens who run LA Paranormal, an Internet reality show that fights demons and ghosts. In their company, Aidan believes he's finally found a haven for Ava. But when he meets Kara, a broken girl who can spin a hypnotic web of passionate energy, he awakens powers he didn't know he had―and unleashes a new era of war between the forces of Light and the forces of Darkness.
With the fate of humanity in his hands, can Aidan keep the Darkness at bay and accept his brilliant, terrifying destiny?
In The Still of the Night (The Black Knight Chronicles, #5) by John G. Hartness
The bodies are piling up!
Murders are happening outside Charlotte's hottest nightspots. A new vampire society has set up shop in the sewers. And Jimmy Black's about to run afoul of the Master of the City. If Jimmy weren't already a vampire, the week ahead would be the death of him.
Between murder, monsters, pesky vampire ethics, and territorial disputes, Jimmy is about to discover how far he's willing to go to save the world and one friend's soul.
There are no easy choices, even for vampire geeks.
The boys are back with all-new monsters to battle, puzzles to unravel, and asses to kick in this fifth volume of the award-winning The Black Knight Chronicles series.
Shades of Treason (Anomaly, #1) by Sandy Williams
Ash would have given her life to save her teammates.
Instead, they gave their lives to save hers.
Lieutenant Ramie Ashdyn is an anomaly, a person whose genetic makeup makes her stronger and smarter than the average human. She's pledged her life to protect the Coalition, an alliance of thirteen planetary systems, but when a top secret operation turns bloody, she's charged with treason and the brutal executions of her teammates.
The Coalition needs the information Ash's team stole on their last mission, so they send in Commander Rhys "Rest in Peace" Rykus to get it. He's the man who's responsible for turning Ash into an elite soldier… and he's a man who isn't, never was, and never will be in love with the woman he trained. Or so he tells himself.
Ash wants nothing more than to clear her name and be the woman her former instructor wants her to be, but the enemy who killed her teammates did more than frame her for treason and murder: they telepathically silenced her mind, preventing her from saying anything that might point to the truth about what happened.
Now Ash is trapped and set to be executed, the truth dying with her. Unless she can prove her innocence. But taking that path could destroy the Coalition she's sworn to preserve and protect.
Soul Scorched (Dark Kings, #6) by Donna Grant
Darcy was floating on a cloud of pure passion. Everywhere he touched, Warrick was leaving a mark on her, forever changing her. She could feel it through her skin and muscle, through bone and into her soul. It was as if he was changing her. And she welcomed it…
Her power is a blessing.
Born on the Isle of Skye, Darcy is a beautiful woman of many gifts. Fortune-telling is her forte, and she remains the only Druid who could unlock the secrets—and desires—of a Dragon King. His name is Warrick. And now that Darcy's seen into his dragon heart, nothing will ever be the same…
His passion is a curse.
Warrick never intended to put Darcy in harm's way. But ever since she revealed a shocking truth, Darcy has been hunted by the Dark Fae, who want to use her powers for their own evil purposes. Now it's up to Warrick to do whatever it takes to keep the woman who sets his soul on fire safe. But protecting Darcy means putting himself—and his entire race—in jeopardy. Is his desperate longing for one woman worth the risk of losing everything… for eternity?
The Hollow Queen (Symphony of Ages, #8) by Elizabeth Haydon
Acclaimed author Elizabeth Haydon returns with a heartbreaking tale of love and valor in
The Hollow Queen
, the eighth installment of her
USA Today
bestselling Symphony of Ages series that began with
Rhapsody
.
Beset on all sides by the forces of the merchant emperor Talquist, the Cymrian Alliance finds itself in desperate straits. Rhapsody herself has joined the battle, wielding the Daystar Clarion, leaving her True Name in hiding with her infant son. Ashe tries to enlist the aid of the Sea Mages. Within their Citadel of Scholarship lies the White Ivory tower, a spire that could hold the key to unraveling the full extent of Talquist's machinations. Achmed journeys to the reportedly unassailable palace of Jierna Tal, to kill emperor Talquist—all the while knowing that even if he succeeds, it may not be enough to stop the momentum of the war.
As they struggle to untangle the web of Talquist's treachery, the leaders of the Cymrian alliance are met with obstacles at every turn. Rhapsody soon realizes that the end of this war will come at an unimaginable price: the lives of those she holds dearest.
The Silenced (Krewe of Hunters, #15) by Heather Graham
Where is Lara Mayhew?
Lara, a congressman's media assistant, suddenly quits her job—and disappears on the way to her Washington, DC, apartment.
Novice FBI agent Meg Murray, a childhood friend of Lara's, gets a message from her that same night, a message that says she's disillusioned and "going home." To Richmond, Virginia. Meg discovers that she never got there. And bodies fitting Lara's description are showing up in nearby rivers… Could she be the victim of a serial killer?
Meg is assigned to work with special agent Matt Bosworth, a hard-nosed pro in the FBI's unit of paranormal investigators—the Krewe of Hunters. They trace the route Meg and Lara took more than once in the past, visiting battlefields and graveyards from Harpers Ferry to Gettysburg. Places where the dead share their secrets with those who can hear… As Meg and Matt pursue the possibility of a serial killer, they find themselves in the middle of a political conspiracy. Is there a connection? And who—besides each other—can they trust?
The Undying Legion (Crown & Key, #2) by Clay Griffith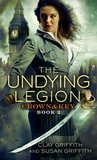 A thrilling new Victorian-era urban fantasy for fans of Kevin Hearne's Iron Druid Chronicles, the Showtime series
Penny Dreadful
, and the Sherlock Holmes movies featuring Robert Downey, Jr.
With a flood of dark magic about to engulf Victorian London, can a handful of heroes vanquish a legion of the undead?
When monster-hunter Malcolm MacFarlane comes across the gruesome aftermath of a ritual murder in a London church, he enlists the help of magician-scribe Simon Archer and alchemist extraordinaire Kate Anstruther. Studying the macabre scene, they struggle to understand obscure clues in the ancient Egyptian hieroglyphics carved into the victim's heart—as well as bizarre mystical allusions to the romantic poetry of William Blake. One thing is clear: Some very potent black magic is at work.
But this human sacrifice is only the first in a series of ritualized slayings. Desperate to save lives while there is still time, Simon, Kate, and Malcolm—along with gadget geek Penny Carter and Charlotte, an adolescent werewolf—track down a necromancer who is reanimating the deceased. As the team battles an unrelenting army of undead, a powerful Egyptian mummy, and serpentine demons, the necromancer proves an elusive quarry. And when the true purpose of the ritual is revealed, the gifted allies must confront a destructive force that is positively apocalyptic.
The Werewolf Meets His Match (Nocturne Falls, #2) by Kristen Painter
Welcome to Nocturne Falls, the town where Halloween is celebrated 365 days a year. The tourists think it's all a show: the vampires, the werewolves, the witches, the occasional gargoyle flying through the sky. But the supernaturals populating the town know better. Living in Nocturne Falls means being yourself. Fangs and all.
Getting arrested wasn't on werewolf Ivy Kincaid's agenda when she arrived in Nocturne Falls, but her life rarely goes according to plan. The upside of spending the night in the local lock-up is finding a hotel room is no longer a worry...but the downside is the man she's come to marry will get his first impression of her behind bars. Not exactly the way Ivy was hoping to meet her pack's sworn enemy...aka her fiancé.
Sheriff (and werewolf) Hank Merrow is the alpha's heir. Everything he's ever done, from becoming an Army Ranger to serving in law enforcement, has been in preparation for the day he'll take over. Getting married to cement a shaky truce is no different. Hank will do his duty, even if it means shackling himself to a woman he has no intention of liking, let alone loving.
But Ivy is nothing like Hank expected. As feisty as she is beautiful, she's as determined as he is to make a go of marriage for the sake of peace between their packs. The trouble is, Ivy has secrets that could destroy everything Hank holds dear...including his newfound love for her.