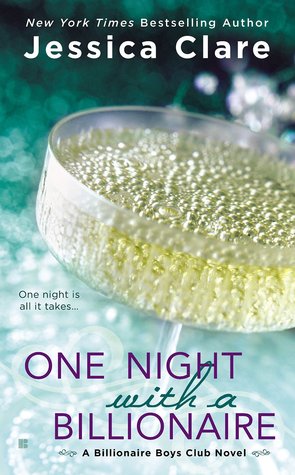 One Night with a Billionaire
(Billionaire Boys Club Series, Bk #6)
by Jessica Clare
Blurb:
Kylie may be a makeup artist to the stars, but she knows what it feels like to be overshadowed. Especially by her famous boss, the pop star Daphne. That's why she's stunned—and delighted—when one night at a party, she attracts the attention of a gorgeous stranger. But when Daphne decides she wants the handsome billionaire for herself, Cade Archer is suddenly off-limits for Kylie…
Cade has known Daphne for years, and always wondered if she might be the right woman for him—even though she never gave him the time of day. But one sizzling night with Kylie has changed everything. So why is she suddenly avoiding him? Fortunately Cade is determined to get what he wants, and he'll do anything to show Kylie she can get everything she wants too…
Available for purchase at
I have to start by saying that while this is part of a series, it can be read as a stand-a lone. The thing is that when you read this, you're going to want to read all the previous books! LOL!
I loved it! From the very beginning! Loved the characters and the story! I also loved that the heroine isn't your traditional heroine. What I mean by this is that she isn't a size 2 or a size 4. She's what we would call an average, 'normal' size... Kylie is a size 18. Additionally what I LOVED about this book is that Cade finds her utterly attractive from the very beginning. He honestly found her SEXY! AWESOME!!
Kylie is a bright personality that has a lot of love to give people and is a great friend. Even to those who may not be truly deserving of it. She has had a rough life yet still has a positive outlook. This aura and happy personality is also something that drew Cade towards her.
Cade is on of the characters that seems to have popped up a lot in the previous installments and this is where you may "miss out" a bit from not having read the previous books. However, the author does a great job of catching you up on what's going on regarding his childhood love interest and what has occurred up to this point. He is extremely charismatic and is always there for his friends. Extremely supportive. One would say, too supportive and understanding when it comes to Daphne.
Cade and Kylie make a great couple and throughout the story, they prove it over and over again. Cade knows this and realizes it. Kylie... not so much. LOL She allows her past to affect her present and future and while she says she's fighting for her happiness, she doesn't, not really. She allows others to dictate her life instead of having a conversation with Cade. It does become one of those moments when you wish you could yell through the book and say 'Just ask him for help!'
One thing I will say though is that I had a bit of an issue when the Cade and Kylie are together and happy and many people were either telling Kylie and Cade to "dial their happiness down a bit" or that they shouldn't be together all because Daphne has once again spiraled down and now crashed. Why should they? Its not their fault! They were NOT the cause! Daphne has had this problem for years and its HER issue and problem. No one else! I had a 'family member' struggle with addiction - I know first hand, that you can't stop living your life because of them.
I read this in one sitting and couldn't put it down! Loved it! And just so you now, I will be going back and reading the previous ones that I haven't read as of yet!
Rating: 4 Stars - Loved It
Disclaimer:
We received a complimentary copy of the book from the PENGUIN GROUP Berkley, NAL / Signet Romance, DAW, via Netgalley, in exchange for an honest review. This review is my own opinion and not a paid review.