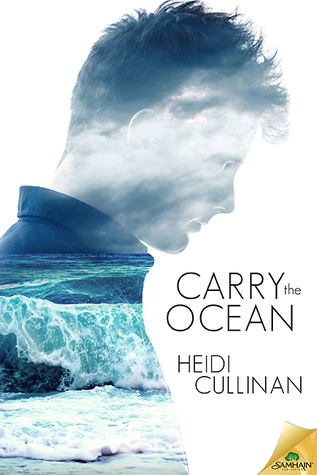 Carry the Ocean
(The Roosevelt Series, Bk #1)
by Heidi Cullinan

Blurb:
Normal is just a setting on the dryer.
High school graduate Jeremey Samson is looking forward to burying his head under the covers and sleeping until it's time to leave for college. Then a tornado named Emmet Washington enters his life. The double major in math and computer science is handsome, forward, wicked smart, interested in dating Jeremey—and he's autistic.
But Jeremey doesn't judge him for that. He's too busy judging himself, as are his parents, who don't believe in things like clinical depression. When his untreated illness reaches a critical breaking point, Emmet is the white knight who rescues him and brings him along as a roommate to The Roosevelt, a quirky new assisted living facility nearby.
As Jeremey finds his feet at The Roosevelt, Emmet slowly begins to believe he can be loved for the man he is behind the autism. But before he can trust enough to fall head over heels, he must trust his own conviction that friendship is a healing force, and love can overcome any obstacle.
Warning: Contains characters obsessed with trains and counting, positive representations of autism and mental illness, a very dark moment, and Elwood Blues.
Available for purchase at
Viviana's Review:
I jumped at the chance to review "Carry The Ocean" for two reasons. One, the blurb just captivated me and I wanted to see how Heidi was going to create this world. I wasn't disappointed. I read this in one sitting, couldn't put it down, and I didn't want to put it down!
She did it again! She has created characters that tug at your heart for all the right reasons! She has written a beautiful love story about two individuals that society may believe do not deserve or (perhaps on a more silver lining/better perspective) that they cannot love. In fact, when I told my co-worker I was reading a contemporary, new adult, LGBT romance where one of the heroes happens to suffer from major depression and anxiety disorder and the other hero is on the spectrum of autism she was surprised it was a romance. She actually asked "and that's a romance? How?". Needless to say the co-worker and I had a lovely conversation about people with disability still being people and are more than capable to love and be in love and in romantic relationships. It may be a little bit different from what she or I are traditionally used to seeing but it still a loving relationship none the less.
Come to think about it, Jeremey and Emmet have an extremely honest relationship and they have to! They have to be open and honest with their communication in order for the relationship to work because of the limitations they both have. What I loved about them is they were both very willing to learn how the other needed to communicate and how they expressed themselves and what it all meant. They learned and accepted.
Throughout the book we get to know Emmet and Jeremey as individual and as a couple. Each posses individual skills that helps the other flourish and together, they make a solid couple! While Emmet may not "understand" emotions, he truly cares for those he loves and he protects them - he's an Alpha in his own way and one that you want protecting you if given the choice! Jeremey, who can feel too much, learns that the ability to read other's emotions is a good skill to have and that he can use that to help others.
There are moments where you laughed out loud and other were you rooted for them individual and both! Others were you wanted to give them each hugs! The range of emotions you feel while reading a Heidi Cullinan book is wide but you're always left feeling satisfied!
Overall, a fabulous, quick read that will leave you wanting more! This sweet love story will give you hope and make you grateful for what you have as well as appreciate it all!
Rating: 5 STARS - PERFECTION
Disclaimer:
We received a complimentary copy of the book from the author, in exchange for an honest review. This review is my own opinion and not a paid review.