Lets not limit ourselves to only holidays or special occasions to get some of these great gift! This weekly series is full of fun and unique gifts for the book lover in your life or for yourself!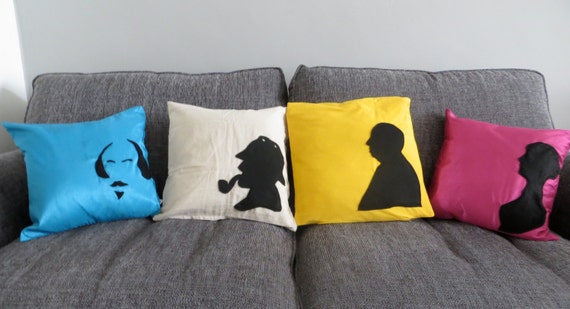 Literary inspired silhouette cushion feat. Jane Austen, Shakespeare, Sherlock Holmes or Hitchcock silhouette
$15.95
Bright and unique cushions for your home, inspired by iconic figures of film and literature: William Shakespeare; Jane Austen; Sherlock Holmes and Alfred Hitchcock!
Each cushion measures 16" X 16" and are made to order with a variety of colours available.
The cushion cover is silk-look unless otherwise stated and so carries a beautiful sheen.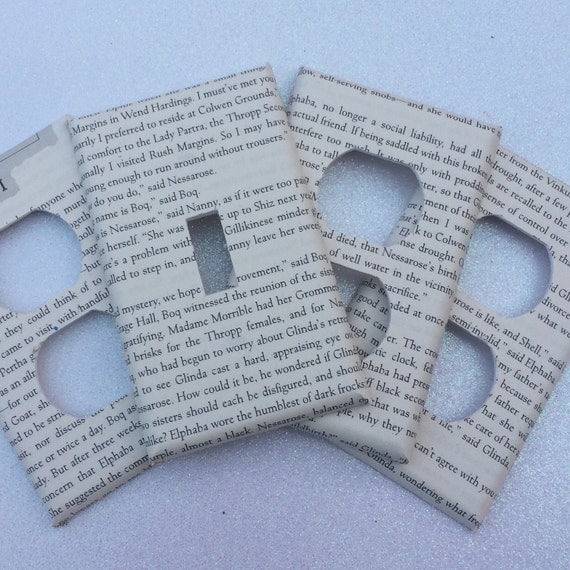 Favorite Book Page Switchplate Outlet Set
By
ArtZodiac
$15.00 (plus S&H)
Choose a BOOK or NAME your Own :)
Best Price on ETSY - GUARANTEED
Set of Four Switchplates in your choice of style -
*It is YOUR responsibility to add a note DURING checkout with your choices.
if you do not add a note DURING checkout, I will send 4 plates of my choosing.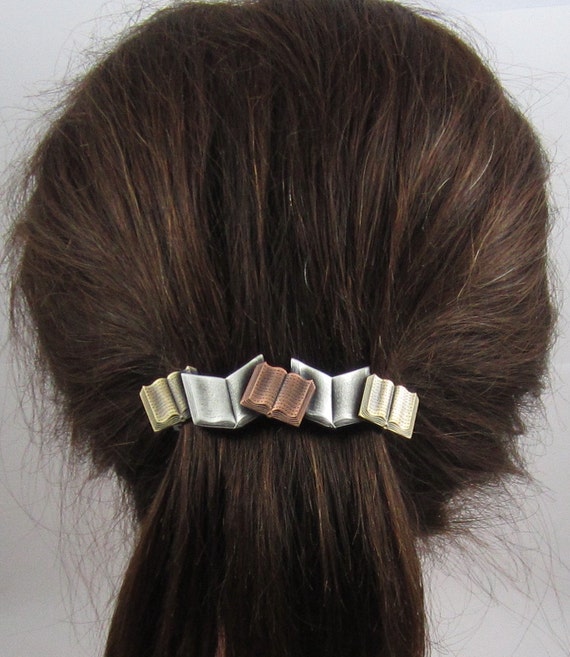 Books French Barrette 80mm
By
PINSwithPERSONALITY
$22.00 (plus S&H)
Five colorful books with beautiful detail form this wonderful sleek barrette. Soldered together and atop the genuine 80mm French Barrette Clip. Mixed metals of copper silver and brass create depth contrast and interest. The French Clip is used which makes this the best quality possible. It will last forever. A great gift for the book worm, librarian, teacher etc.
Measures 3 1/2" x 1"
Shipped in a velveteen pouch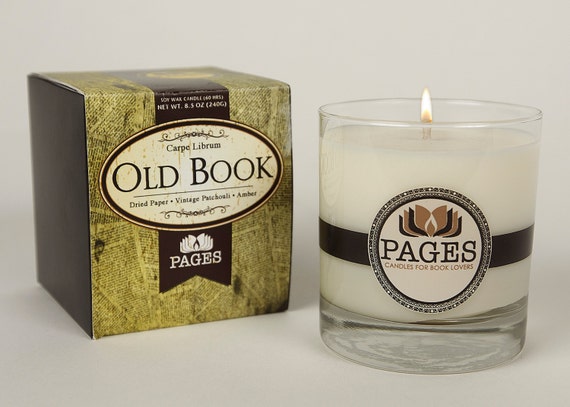 Old Book Scented Candle Candles for Book Lovers
$24.95 (plus S&H)
OLD BOOK: The plot thickens with this rare combination of dusted amber and lined suede. Patchouli accents evoke the essence of distressed vintage pages, fragrant with the balm of yesterday; while notes of vanilla bean and dried paper tell stories from years basking in the sunlight on a wooden book shelf.
What began as just a school teacher's fancy has grown into a full line of candles anchored in a true love for books that's shared among people from all over the world. Pages Candle Co. was created by and for book lovers, attempting to recapture the feelings books give us and trigger memories of one of this life's most amazing treasures. Our candles are made with soy wax and offer about 60 hours of burning time---which just might be enough to finish an entire Harry Potter series— or maybe even get, you through Roots or Gone with the Wind. Expect to see new scents from a fabulous new collection coming soon Follow us on Facebook, Twitter and Instagram for regular notes, quotes and updates! To all the bibliophiles, book nerds, librocubicularists, teachers, bookaholics, librarians, Fictionistas™ and those who fall under any other cool term from Pinterest or Urban Dictionary that we may have forgotten, this line is dedicated to YOU.
Carpe Librum!
If items are no longer available, please contact the seller to inquire further information.
Click here to see more gift ideas!!
Visit us every Wednesdays for more awesome gift/present ideas for you or the
Book Lover in your life!!!