Its that time of year where we begin to think about gifts/presents for those in our lives. But why limit ourselves to this time of year only? I'm starting a new weekly series of cool and unique gift ideas for the book lover in your life!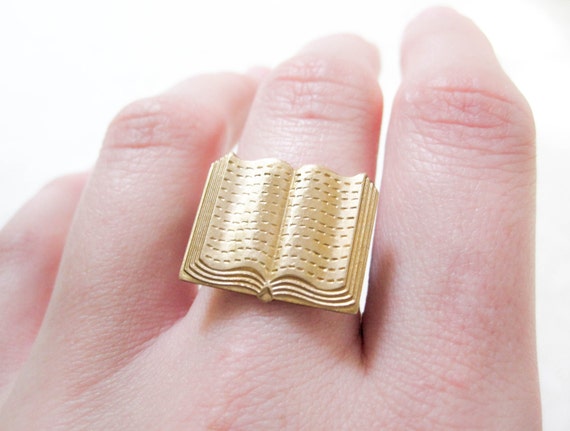 Book Ring ~ Brass Jewelry ~ Novelty Ring ~ Librarian ~ Book Lover ~ Adjustable Ring ~ Book Jewelry ~ Teacher Gift
A brass book is backed with an antiqued brass ring as an ode to your love of books! This raw brass piece measures about 16mm x 19.5mm (5/8" x 3/4")and the ring has a wide band that tapers slightly and fits sizes approximately 7 to 10.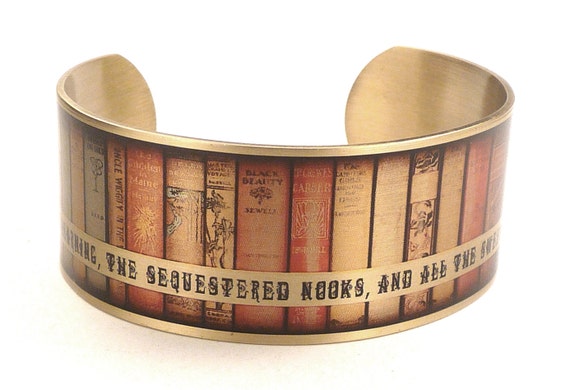 Book Quote Bracelet, Book Lover Jewelry, Book Stack Literary Jewelry
$34.00
"The love of learning, the sequestered nooks, and all the sweet serenity of books".
Each of my plated stainless steel cuffs are designed, decoupaged, sealed, and polished by me. The nature of this material means that you can see some of the beautiful metal underneath the image, including the natural variations in color which add a unique element to each and every piece. Each cuff is sealed with jewelers film and polished with museum quality wax, however, I still recommend not wearing it while doing any rigorous activity. To clean, simply lightly dampen a clean cloth and wipe the part of the surface that needs cleaning, being careful to rid of all water when done.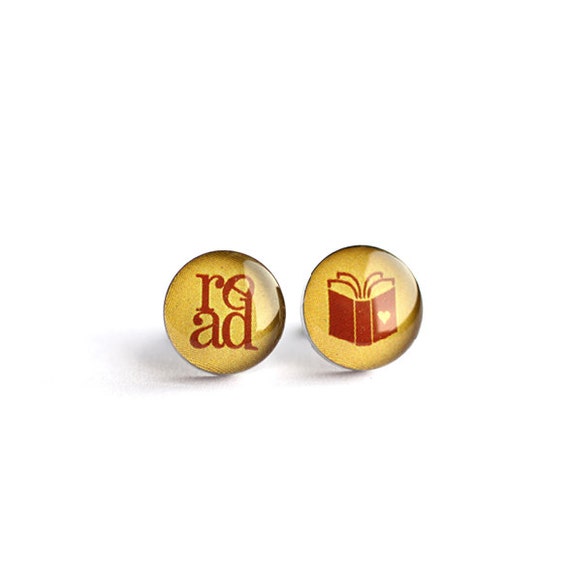 Book lover post earrings, Surgical steel ear stud, Reading earring, Tiny earring studs
$16.00
Lovely pair of handcrafted earrings for book lovers. Made from 100% hypoallergenic SURGICAL STAINLESS STEEL and RESIN. Perfect for everyday wearing to office and for any other occasions.
10 mm / 12 mm (0.4" / 0.5") in diameter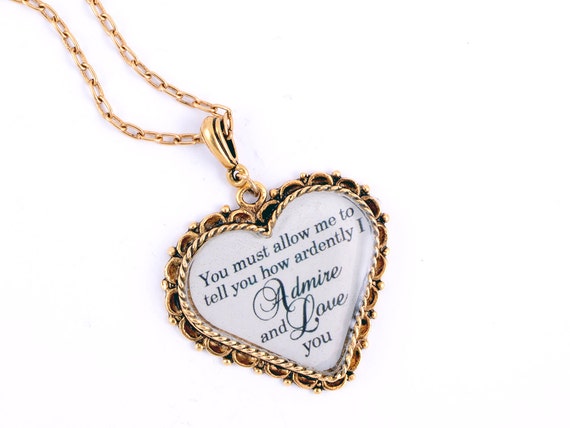 Jane Austen Quote Necklace - Pride and Prejudice - Mr Darcy Proposal in Gold Heart Pendant
$30.00
Jane Austen Quote Necklace inspired by the classic book, Pride and Prejudice, and featuring a beautiful gold heart pendant with the romantic Mr Darcy quote:
"You must allow me to tell you how ardently I admire and love you."
Perfect for book lovers whose hearts belong to the swoon-worthy Mr. Darcy, this elegant Pride and Prejudice necklace is a beautiful way to share your love of Jane Austen books and classic literature.
If items are no longer available, please contact the seller to inquire further information.
Click here to see more gift ideas!!
Check back every Wednesdays for more awesome gift/present ideas for you or the
Book Lover in your life!!!